This week Celebrity Chef from Ready Steady Cook & Fellow Master Chef Steven Saunders, proprietor of The Little Geranium in La Cala serves a tasting menu lunch for his Michelin chef friends…
I HAVE many fond memories of growing up, working with and befriending some of the best chefs on this planet!
My main training was at The Savoy in London in the 70's and I worked under Trompetto the head chef who was at that time known as one of the world's best chefs.
When I bought my first restaurant (The Pink Geranium) I became friends with Marco Pierre White who had Harvey's in Wandsworth until my wife suffered seafood poisoning eating his classic oyster dish and the two of them had a major fall out over it and of course then Marco and I never really talked again!
Then in the early 90's I became friends with Gordon Ramsay and Gary Rhodes. Gordon is a great sporting fan and I met him when we were both guests of Frank Warren at a boxing match in London.
I remember Gordon telling me that the difference between us (me and him) was that I was a TV chef (I was on Ready Steady Cook at that time) and he was a real chef! I argued the point of course saying how necessary TV is to ensure a busy restaurant.
Then I saw him a few years later when he was on every channel ever created and I was more focused on my kitchens. I went over to him and said "hi Gordon, there is a difference between us." He said "really what's that?" "Well you are a TV chef and I am a real chef," I said.
He didn't laugh but the others around him did! We sort of fell out after that!
Then there was Gary Rhodes and I really liked him but my daughter (then about 10) met him at a film premiere with me and told him…" There's only one real chef on the TV and that's my dad!" So I was doing well falling out with my peers!
However amongst the few casualties I also got to know and like many chefs who had Michelin stars around the world like Jean-Georges from New York, Paul Rankin from Belfast, Andrew Turner from London, Alan Murchison from Reading, Nico Ladenis from London and the great Joel Robuchon who had more Michelin stars than all of us put together!
Other greats like Bruce Sangster and Willie Pike were also friends and would visit me from time to time at The Pink Geranium near Cambridge.
Willie is undoubtedly one of the world's finest pastry chefs, has an MBE and runs his own Master Chef consultancy company and Michelin star Bruce Sangster famous from Sangster's in Elie, Fife, has now just retired.
When Willie and Bruce turned up at The Little Geranium I was more than delighted to see them with their lovely wives. We chatted about some of the chefs and some of the good old days and then they sat down to our lunch tasting menu which consisted of six courses.
Willie and Bruce messaged me afterwards saying what an amazing experience it had been! One of their favourite dishes is our Galician Beef, simple but delicious and you too can cook like a Michelin chef if you follow these basic but necessary rules to achieve perfection!
Steven Saunders's opinions are his own and are not necessarily representative of those of the publishers, advertisers or sponsors.
---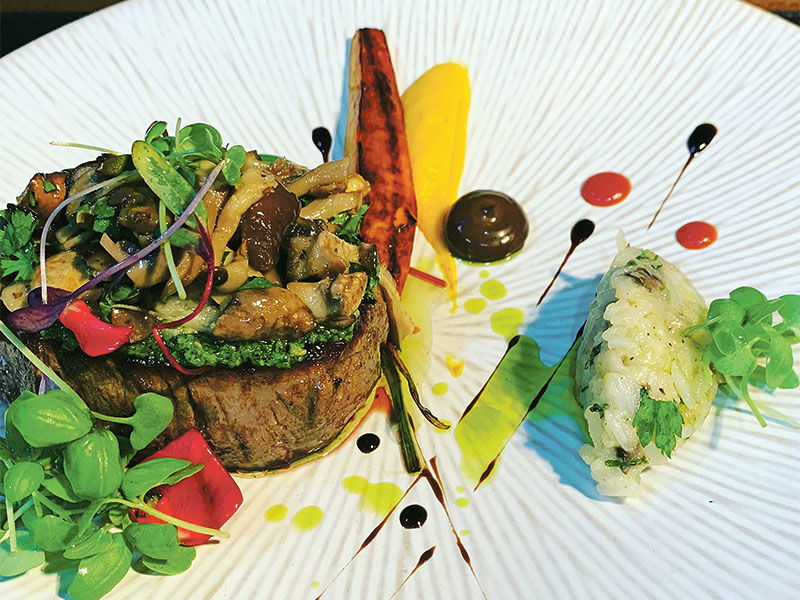 Michelin Galician Beef
Galician beef is ranked amongst the top by chefs worldwide for its quality and rare breed beef. If you cannot find it ask your butcher to order it for you because for this dish the quality of the beef is essential.
Ingredients (for four)
1 kilo of best Galician centre fillet trimmed and cut into four steaks
250g of wild mushrooms
1 tablespoon of fresh black truffle shavings (or jarred truffle pieces)
1 tablespoon of good black truffle oil
2 cloves garlic peeled and finely chopped for mushrooms
2 tablespoons of freshly chopped parsley
Parsley pesto, see recipe below
Carrot puree, see recipe below
Maldon salt
Microcresses and micro herbs for garnish
For cooking the beef
8 cloves of garlic peeled and thinly sliced
1 sprig of fresh rosemary
125g of salted butter
200 ml of olive oil
To cook the beef
Take the sliced garlic, butter, olive oil and rosemary and put in a medium sized frying pan on the stove to warm through (not boil).
Seal the steaks in a separate hot frying pan (or on a griddle) with a little olive oil and season, seal and colour all over but do not cook it too much as we want it to be rare to medium rare.
Now put the steaks in the pan with all the garlic and butter etc and baste using a spoon to get the flavours of the garlic, rosemary etc into the beef. Allow the steaks to rest in this warm cooking liquor for about five minutes.
Now fry the mushrooms whilst the beef is resting with the chopped garlic, a little olive oil and seasoning. Cook for a few minutes only (to retain shapes and textures). Remove from heat when cooked and stir in fresh parsley.
Now remove the steaks from the garlic pan and put back in a dry hot frying pan with a dash of olive oil and seal again crusting the beef a little, cook for two minutes like this.
Now put the beef back in the garlic cooking liquor for a final basting and remove after two mins and rest on tissue paper.
Season with Maldon salt and spoon a little parsley pesto over the top of each piece of beef.
Serve the mushrooms equally on top of each piece of beef. Grate or shave the fresh truffles on top of each piece of beef and drizzle with the truffle oil.
Spoon the purees on the plates in an artistic way and add some micro herbs and serve.
Parsley pesto
30g flat leaf parsley (no stalks)
Two garlic cloves, crushed
40g freshly grated parmesan
30g toasted hazelnuts
75ml extra virgin olive oil
Maldon salt
Put all the ingredients into a food blender apart from the salt. Blend to a fine puree, taste and season.
Carrot and mustard puree
500g of carrots, peeled and chopped
75ml of chicken stock
25ml of cream
50g of Dijon mustard
Put the carrots into a saucepan and cover with chicken stock and the cream.
Bring to the boil, reduce to a simmer and cook for around six to eight minutes until soft and tender.
Place the warm carrots into a food processor.
Purée until smooth, adding a little of the cooking liquor as required. Stir in the mustard to taste season and serve.
Follow Steven on Instagram … saunderschef – Email any questions … steven@thelittlegeranium.com
The Little Geranium, Winner of Best Contemporary International Restaurant 2019-Costa Del Sol – www.thelittlegeranium.com