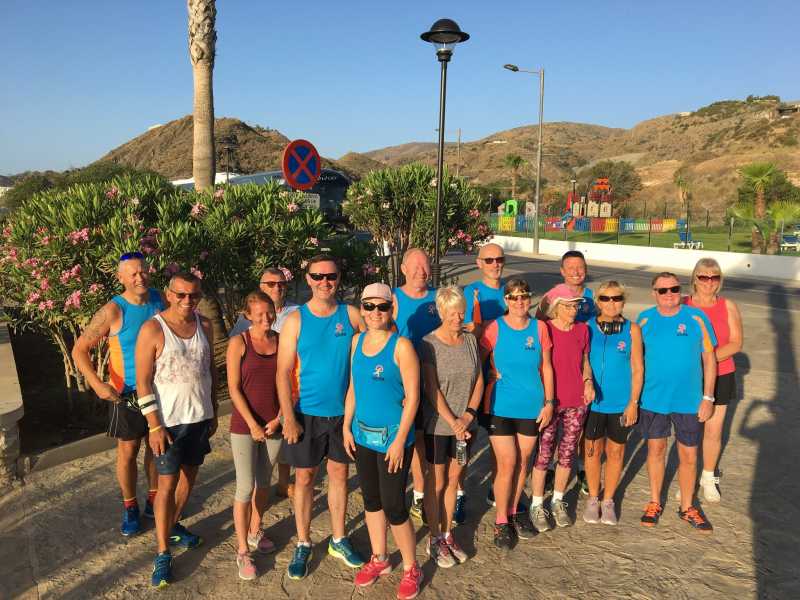 THE El Bandido Runners are staging the group's first fundraising run.
The run, jog or walk along the Mojacar Playa seafront promenade coming up on Sunday September 29 will raise money for the local PAWS-PATAS animal charity and MACS Cancer Support.
The driving force behind the event is El Bandido Runners Group founder Kevin Rowe. Fitness enthusiasts Kevin and his wife Lesley moved to Los Gallardos from Norwich two years ago. Kevin is in fact a qualified personal trainer and has taken part in two Ironman events plus numerous half and full marathons around the world.
He came up with the idea of starting the running group in June last year, and with permission from Mojacar council arranged for people to meet for a regular walk, jog or run along the promenade.
As the group began to grow, Kevin had the idea of creating an annual event, which not only brings together members of the local community would also raise money for charities in the area.
The run will start from in front of the Best Indalo Hotel and go up to the Red Cross roundabout and back to complete five kilometres. From 10am to 2pm participants will walk, jog or run the distance, or even further if they are really keen.
The event is aimed at all age groups, but those who do not want to take part are invited to come along and support the participants and join in the fun.
Money raised from the event will be split between PAWS-PATAS and MACS: Lesley does voluntary work for both.
Kevin is brimming over with excitement about the upcoming fundraiser, and issued a big thanks to the sponsors for their help and support: Jemma Wilson of Rosie Lees in Turre, Nissan Andalmotor Vera, Frank Millar photographer and Daniel and Vicki Laws travel agents.
He is also hoping the initiative will get increasingly bigger in future years.
Apart from wanting to help raise much-needed money for excellent causes, Kevin is passionate about getting people to be more active.
Running or walking is "your own space, your meditation time", says Kevin, "plus you can socialise and enjoy the luxury of the paseo, which has to be one of the nicest places to run.
"Watching the sun rise feels absolutely gorgeous: what a way to start the day in this little slice of paradise", he enthuses.
To register for the Mojacar fundraising run email elbandidorunner@gmail.com and pay on the day. Entry is €5. The maximum number of participants is 250.
Participants will be able to monitor their time via a special application which can be downloaded onto a mobile.
The El Bandido Runners meet every Wednesday and Saturday at 8am (9am in the winter) at the Best Indalo Hotel. For further information, visit and like the Facebook page @elbandidorunners.