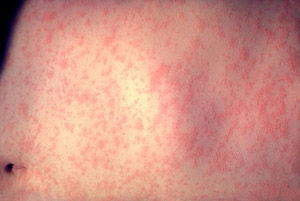 THE president of the Spanish Society of Epidemiology (SEE) said the World Health Organisation's figures on measles were worrying.
"We have the means of eradicating it," Pere Gody said, "but this is not happening for two reasons."
Resistance towards the vaccine has grown in developed nations while inadequate Eastern European health systems could not stop measles from spreading.
Vaccination rates in Spain were good, but there was room for improvement, Godoy said, as there was a 95 per cent take-up for the first dose although this fell for the second.
Godoy also recommended the vaccine for the 40-to-50 age group.
"The elderly are immune because they were in contact with measles as children and those born after 1980 were vaccinated," he said.
But there were pockets of the middle-aged who could come in contact with the disease for the first time and for whom the SEE now recommended two doses of the vaccine.