GUARDIA Civil seized nearly 16,000 marijuana plants from a major illegal cultivation set-up uncovered in El Ejido.
Some 150 Guardia Civil officers were involved in the raids on 20 properties and 10 greenhouses in the El Pozo de la Tía Manolica area. The 12 hours of Operation Pozo Green searches also unearthed 120 illegal connections to the power supply, three shotguns, three pistols and nearly €60,000 in cash.
There were 20 arrests.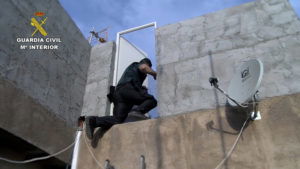 The Guardia reported that most of the marijuana plants had been hidden under plastic in false upper floors accessible only by ladders.