This week Celebrity Chef from Ready Steady Cook & Fellow Master Chef Steven Saunders, proprietor of The Little Geranium in La Cala cooks up a black pudding dish for his regulars!
BLACK PUDDING is a type of blood pudding originating in the UK and Ireland. It is made from pork blood with pork fat and a cereal, usually oatmeal, sometimes rice.
The different proportion of cereal and spices along with the use of certain herbs usually distinguishes where the black pudding is from.
Black puddings are supposed to be one of the oldest forms of sausage as the blood does not keep unless prepared in some way, and making a pudding is one of the easiest ways of ensuring it does not go to waste.
While the majority of modern black pudding recipes involve pork blood, this has not always been the case; sheep or cow blood was also used, and one 15th century English recipe used that of a porpoise, in a pudding eaten exclusively by the nobility!
Until at least the 19th century, cow or sheep blood was the usual basis for black puddings in Scotland.
Culinary uses for black pudding are vast and include black pudding ice cream, roast game dishes, especially venison with black pudding and a more conventional modern recipe is using it as an accompaniment to scallops which is delicious.
In Scotland and the north of England many fish and chip shops sell deep-fried, battered black pudding and many people love it fried with their full English breakfast!
White pudding is broadly similar to black pudding, but does not include blood. Modern recipes consist of suet or fat, oats or barley, breadcrumbs and usually pork and pork liver, filled into a natural sausage casing.
At The Little Geranium we have many regular clients returning for our black pudding. Kevin Hull has been a regular for years and close friend, so we have the dish named after him in the kitchen.
We call it Kev's pudding as it is larger than the usual size tapas portion and is drenched in truffle sauce!
The black pudding is griddled and then topped with garlic spinach and fried quails eggs and then coated with a truffle cream made with white truffles, drizzled with a little truffle oil.
Another dish we do for another regular client is similar but instead of topping it with quails eggs we top it with seared foie gras glazed with a little Miraflores honey from our region and we call that Eamon's black pudding.
The chefs all know what the dishes are and while other clients may eat them, we still put their names on the tickets.
Kev's black pudding is different to Eamon's and we need to differentiate them! Lorraine Kelly was in for lunch the other week and commented on how lovely the black pudding dish was, we had changed it a little so we now also have Lorraine's black pudding! I used to make my own black pudding, but it is time consuming and I think some parts of the world do it better than me! So I buy it from either Asturiana in northern Spain or from Kilkenny in Ireland depending on the dish. Both are truly superb!
Recently one of the most popular black pudding dishes has been our terrine of black pudding with confit chicken wings wrapped in Serrano ham and served with home-made walnut bread.
It is delicious and sits proudly as a dish on our current eight-course tasting menu. It's a white terrine speckled with the black pudding as black and white looks striking!
Making a terrine isn't as difficult as it looks and so if you follow this simple procedure you could serve up this stunning terrine as a lunchtime snack, a dinner party starter or even on a buffet table especially good for a large party or Christmas buffet!
Steven Saunders's opinions are his own and are not necessarily representative of those of the publishers, advertisers or sponsors.
---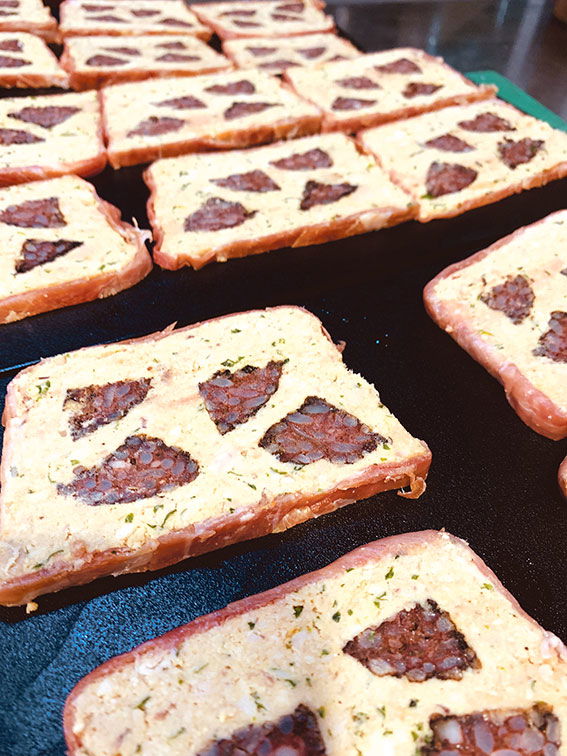 Terrine of confit chicken with black pudding
Preparation
Follow these simple rules and this terrine will come out perfectly!
So first we must line a terrine mould with cling film allowing it to overhang as we are going to need to wrap up the terrine.
Then line the mould with thin slices of Serrano or Parma ham on the top of the cling film, ensure that the ham is also overlapping and covering the sides and the base. Now prepare the terrine mixture.
For the chicken confit
Ingredients for one terrine which serves 12
12 whole chicken legs with thighs attached
4 tablespoons of salt
Approx 4 litres of chicken stock
2 sticks cinnamon
2 whole garlic cut in halves across the middle or smashed
A bunch of fresh thyme
The zest of 2 oranges
4 leaves of gelatine
250g of melted butter
2 tablespoons of fresh tarragon chopped
1 whole black pudding approx 15 cm long cut into 2 cm thick but approx 15 cm long strips
Method
Prepare the chicken leg/ thighs by scouring briefly with a sharp knife
Now coat them with the salt and leave overnight in the fridge or for as long as possible
Bring the chicken stock to the boil and add the ingredients (garlic, cinnamon etc)
Brush/wipe the salt off the chicken legs and lay them in a roasting tray
Pour over the stock and cover with tin foil
Roast in a pre-heated oven 150ºC for minimum three hours
A confit is something that it slow cooked (slow braised) usually in duck or goose fat which acts as the carrier for flavours especially when you add garlic, cinnamon, peppercorns, orange zest and so on.
The word confit is French and derives from the word confiture or preserve. Nowadays I don't use so much fat so I make a light fresh chicken stock and then pack it with the garlic and cinnamon etc.
Pour it over the chicken legs in a large roasting tin (we use the wings, but this is more time consuming as they are tiny but the meat is sweeter). Cover the roasting tin with tin foil and cook in a pre-heated oven at 150ºC for at least three hours.
Check it from time to time. It is ready when the meat literally falls off the bone with ease.
Remove the cooked chicken meat from the bone carefully with plastic gloves on as it is key to do this whilst they are still warm.
Put all the cooked chicken meat in one bowl and all the sinew and bone in another. Ensure that you have no bone or gristle in the chicken meat bowl!
Take the cooking liquor (the stock the chicken was cooked in) and now reduce it by half
Take the leaves of gelatine and soak in cold water until soft. Now add that to the boiling reduced stock and whisk in. Allow to thicken.
Take the long strips of black pudding and seal so that it is crisp on the outside but do not overcook.
Put the picked chicken meat in a large bowl and pour over a ladle of the reduced stock adding a ladle at a time to get a sticky tight texture. Now add the butter and tarragon and taste. Season if necessary.
Press the chicken meat into the terrine tightly approx. 1 cm thickness only
Now add the strips of black pudding ensuring that they go the whole length of the terrine if not then cut some off other strips. It's important because when you slice the terrine each slice of terrine needs to have the same amount of black pudding.
Pack more chicken meat on top and repeat procedure until the terrine is full.
Fold the overhanging ham and cling film over the top of the terrine so that it is covered tightly and put in fridge for at least four hours to set (better overnight).
Remove terrine and slice thinly (see photo) serve with a little piccalilli and some walnut toast. I make my own piccalilli and I will give you the recipe on request!
Follow Steven on Instagram … saunderschef – Email any questions … steven@thelittlegeranium.com
The Little Geranium, Winner of Best Contemporary International Restaurant 2019-Costa Del Sol – www.thelittlegeranium.com