MORE than 50 people took to the streets of Gandia on Sunday as part of a rally in defence of animal rights.
The rally was organised by Gandia Animal Save along with the national charity, Animal Save Movement, who were impressed by the reception the rally received in the town. The march was also supported by the animal protector of Gandia.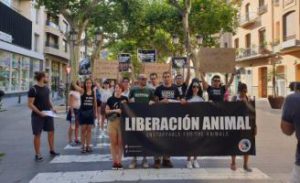 The march ended in Plaza Major where two manifestos were read by the protestors, one against slaughterhouses and another in defense of the Amazon in light of the recent social media outrage regarding the huge fires that are devastating parts of the forest.
A 12-year-old girl explained to the crowd what speciesism is. Speciesism is the idea that being human is a good enough reason to have greater moral rights than non-human animals, a prejudice or bias in favour of the interests of one's own species and against those of members of other species.
The peaceful march was well received by the local residents and another one is in the pipeline for next month to continue to raise awareness for animal rights.