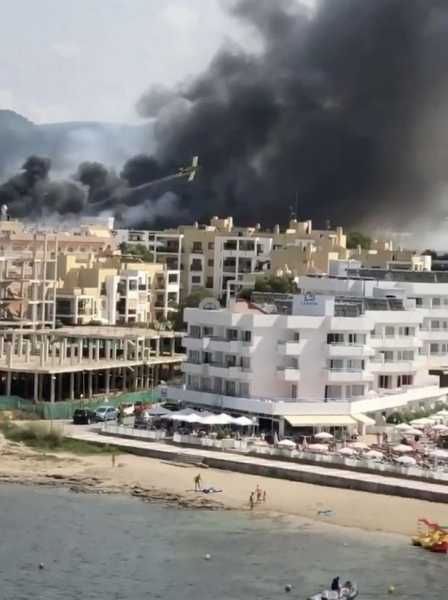 LOCALS and holidaymakers alike shared nervous moments when a fire sent a massive plume of black smoke over the Ibizan resort of Cala de Bou.
Unfounded rumours of a hotel on fire swept amongst holidaymakers, while residents of the Monterrey apartments and in Grananda and Sant Agusti Streets were evacuated because of the choking fumes.
The fire started at around 3.50m yesterday (August 26) and it was not until after midnight that the flames were finally extinguished.
The blaze had started on a plot of land here flammable materials were stored. These not only fed the flames but generated an intense cloud of black smoke that spread across Portmany Bay.
Fifty firefighters and police supported by six fire engines and five aircraft were mobilised to fight the fire, which ended up destroying 1.35 hectares of mainly pine and juniper trees.
The Guardia Civil has opened an investigation into the cause of the fire.