The housing market in Paris, France continues to defy expectations, with demand continually outstripping supply. Prices are steadily rising, and an era of low interest rates (accommodative monetary policy) is fuelling demand among new buyers.
An op-ed in the New York Times by Roxana Popescu revealed some startling insights about the French property market. According to the data, the average home price for an existing apartment in the capital city is on the rise, significantly higher than the boom time with 2011 property prices.
The sale price in the desirable Sixth Arrondissement spiked from €11,300 per square metre in January 2015 to €14,000 per square metre in January 2019. In affordable areas of Paris such as the 19th Arrondissement, prices rose from €6500 in January 2015 to €8350 in January 2019.
Clearly, Paris is not reflective of the overall market for French real estate. In the City of Lights, demand continually outpaces supply, leaving property buyers with no option but to pay premium prices. The city is slow to develop new apartment buildings and homes, leading to extremely high demand for existing real estate.
French President Encourages Luxury Real Estate Purchases
Another major contributor to rising demand for French real estate is the impending UK Brexit from the EU. This factor alone has an outsized impact on property prices, given that so many people from France are living in the United Kingdom, and vice versa.
Expatriates from both sides are now looking to shore up their portfolios by buying property in Paris and other parts of France to protect against a downturn in the UK.
It helps that President Emmanuel Macron has come 180° with a reversal on property taxes on the rich, leading many wealthy property investors to purchase real estate in France.
Leading property consultants in Paris and other highly desirable neighborhoods across the country have attested to rapid sales of luxury real estate now that the government stance on taxation has been relaxed. Whenever family-sized units come up for sale in Paris, they are typically snatched up really quickly.
As one might expect with expensive real estate, less desirable areas are also coming into sharp focus. These areas are less expensive to purchase, but people are seeking them out thereby changing the perception of these areas.
Property prices in Paris have plenty of room for growth, given the central bank policy of maintaining historically low interest rates to drive economic prosperity.
Many properties in Paris are owned by foreigners, but lately the focus has shifted to domestic buyers. The Brexit issue also weighs heavily on the minds of real estate investors.
Many French people who live in the UK are concerned that they won't be able to continue living there post Brexit, given all the citizenship rules and residency requirements which may have to be amended post Brexit. If Prime Minister Boris Johnson succeeds in his Brexit initiatives, the UK should be divorced from the EU by October 31, 2019.
French Concerns About UK Real Estate Holdings Post Brexit
For French people with current ties to the UK, this presents a dilemma. Will they be allowed to live and work in the UK? Rather than risk such a scenario, many French expatriates living in the UK have decided to invest in Europe.
There is growing concern that the value of UK investments will nosedive after Brexit, and the evidence is clearly pointing in that direction. Prior to Brexit on June 23, 2016, the GBP was trading at approximately 1.48 to the USD. Now, it's hovering around 1.21 to the USD.
The GBP/EUR was trading at 1.25 prior to the Brexit referendum. Today, the GBP/EUR exchange rate is hovering around 1.0736. A sharp depreciation in the purchasing power of the pound means that GBP-denominated assets like real estate in the UK will sell for significantly fewer EUR post Brexit.
This changes the entire dynamic for real estate investors looking to shore up their portfolios in France. The exchange rate risk situation is also driving substantial investment from the UK to France.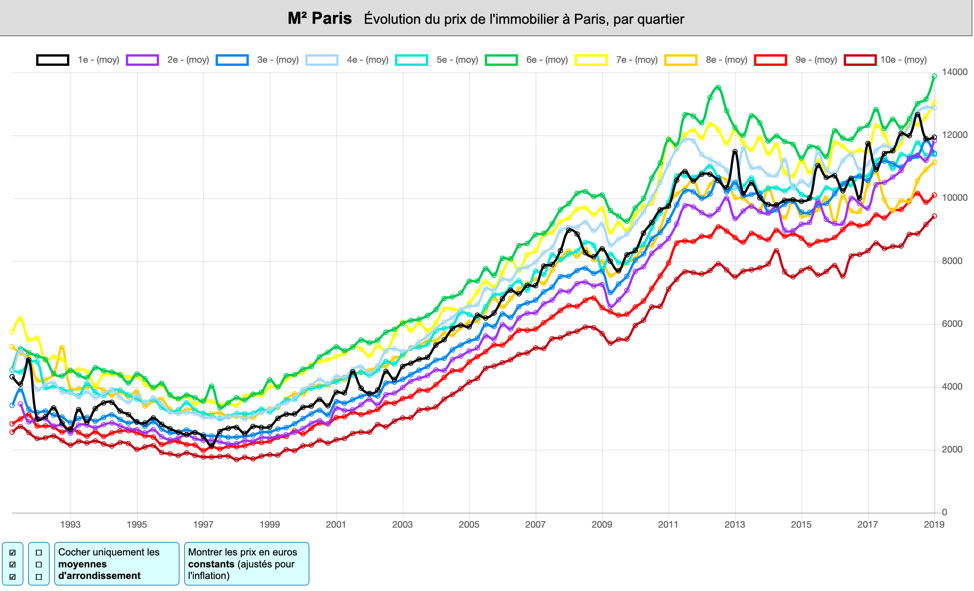 The French real estate market also confers many additional benefits to foreign buyers. For example, anyone can purchase property in France. Investors don't need to deal with real estate agents and lawyers, since French notaries with the requisite legal training can automatically take care of these purchases.
As the price of the property rises, so the fees paid by the buyer decrease. The average fee structure in France is currently 7.5% on the sale price. Mortgages in France can take up to 2 months to be approved, and banks restrict their loan amounts to 50% – 70% of the property sale price.
As far as money transfers from the UK to the France, there are signs of accelerated money movements in recent months. Since the pound is looking 'scarily' cheap to many investors, there is a lot of posturing and positioning with no hope that parity will provide the safety net against the EUR.
Those with UK real estate, or UK financial holdings are growing concerned about the real purchasing power of their pounds. This concern will likely continue over the short term as uncertainty grows heading into the Brexit showdown. Every time French expatriates in the UK sell GBP and buy EUR, the GBP depreciates further.
Net GBP sales and EUR purchases are helping to boost EUR demand and prices for properties in France. The unprecedented nature of a Brexit, and the scope of economic activity that will be impacted by this has many people deeply concerned. Property is generally regarded as a safe-haven asset which tends to retain its value and appreciate over time.
Unfortunately, the perception among those with UK properties is changing as fear of a depreciating GBP is causing a net outflow from the British Isles to other parts of Europe. Of course, a whipsaw reversal may occur post-Brexit as foreigners attempt to buy cheap real estate in the UK on the dip.