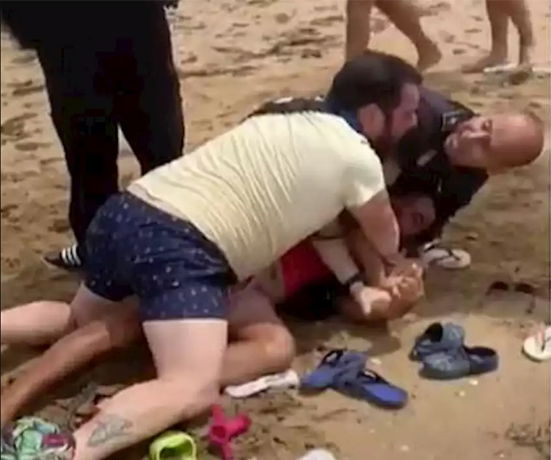 THE Public Prosecutor has reduced the requested jail sentence for a man accused of stabbing a Local Police officer on a beach in Punta Umbria (Huelva).
At the time of finalising the conclusions of the prosecution case, the Prosecutor's Office of Criminal Court 1 of Huelva has suggested to reduce the protagonist's sentence from four years to two. He will also be liable for a fine of €1,400.
His brother has also seen the Public Prosecutor reduce the asked for jail sentence from a year and six months to just six months.
A swimmer who was seen in a video hindering police intervention faces a fine of €540, a reduction from the originally asked for €2,200, for the crime of obstruction.
However the Private Prosecution, which represents the victim, is asking for more severe sentences. Lawyer Juan Rodríguez, is demanding that the perpetrator is sentenced to five years and issued with a restraining order from entering Punta Umbria.
The incident occurred on August 7 when a brawl broke out between Local Police officers and beach vendors after an investigation into illegal beach sales. During the fight, a 16 inch blade was produced and used to attack one of the officers, leaving him with cuts and stab wounds.
The officer spent several days in hospital before being release.
A judge will make a final decision on the sentences to be served this coming Monday after all the defendants failed to contest the prosecution case.