Charmaine Arbouin is not just our British Consul to Andalucia, Ceuta, Melilla and the Canary Isles, she's also a mum who lives on the Costa del Sol. Understandably therefore she and the Embassy are wholeheartedly supporting this new campaign: Ask for Angela.
Ask for Angela is a sexual harassment prevention campaign for anyone (male and female) who feels unsafe on a date or a night out. With this discreet code word 'Angela' staff at the venue can subtly support that person by getting them to a safe space without too much fuss. The aim of this campaign is to reduce sexual violence and vulnerability.
Customers can just ask bar staff for, or mention 'Angela' if they feel uncomfortable with the company they came with and the staff will call a taxi or help this person leave discreetly.
This campaign was launched in 2016 in Lincolnshire in the UK and has grown from strength to strength across pubs, bars, clubs and restaurants as well as internationally in Australia, New Zealand and Ireland.
Further enquiries to use this campaign have been made from Canada, Argentina and Germany and now, with the support of the British Consulate in Malaga, they are running a pilot this summer in Marbella to then evaluate and decide whether it be implemented on a wider scale throughout Andalucia.
At the moment seven bars have been contacted to test the incentive, starting off in Puerto Banus area with The Hard Rock Café and six bars from the Lineker's group.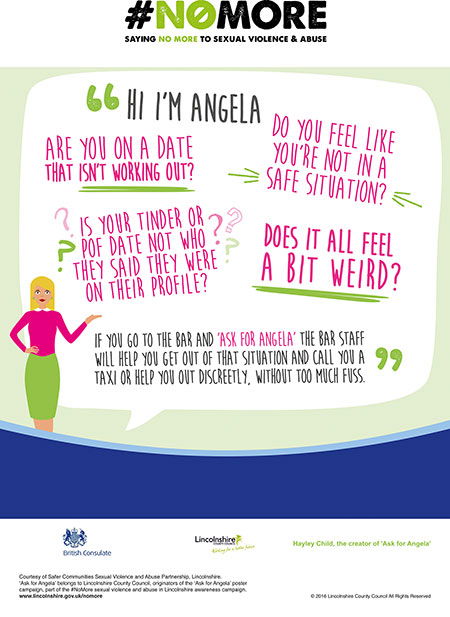 The posters are placed inside the toilet cubicles for discretion and it was quite cool to physically see one of them in the Bijou bar loo when I was there last week.
By looking at the state of some of the 'happy' girls stumbling around the port I think this poster is also a much needed reminder that we all need to be careful and of course the best thing is to have someone 'in-situ' looking out for us if needs be.
Of course it is vital that staff are aware of the campaign and fully understand what they are required to do, so the participating bars also received an additional poster outlining what staff should do if approached for help.
Bars also received a simple sticker to be displayed at the entrance indicating it is an 'Angela' friendly bar which is most useful in an age of online blind dating to be able to chose an establishment that is going to be there to help you out if you feel uncomfortable or unsafe, somewhere where you can ask for Angela.
The Hard Rock Café and Linekers group are also #zerhero partners so chapó and congratulations to them for really being a part of and supporting our Marbella community – we are so much #BetterTogether
PPS. Further details on this incentive in the interview with Charmaine Arbouin on Marbella now aired on July 30, 2019 (link http://rtvmarbella.tv/television/marbella-now/30-de- julio/)