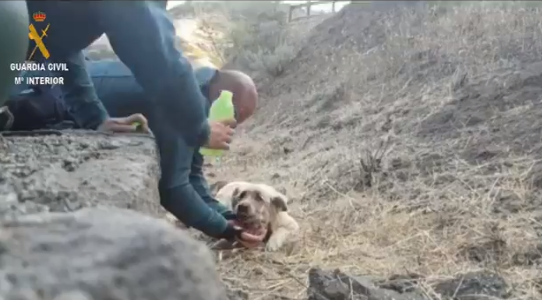 A DOG on the verge of death was the last 'resident' of a Gran Canaria village to be evacuated as flames from the blaze that scorched 12,000 hectares approached.
More than 8,000 people had been ordered from their homes at the height of the disaster, which has now been controlled by 500 firefighters.
But in one village in the mountains the dog had got left behind. Disorientated and lost and suffering from dehydration, the animal was listless and appeared resigned to its fate when two Guardia Civil Seprona (Nature division) officers came across it.
They had been doing an inspection in Cruz de Tejada looking for stragglers when they came across the pooch.
Little by little they fed him water from their cupped hands until he was revived and felt better. They then put him in the car and drove him to safety.
As he is not microchipped the dog has been taken to an animal shelter until his owner comes forward to claim him.



Dos guardias civiles que participaban en la evacuación de los afectados por el #IFGranCanaria localizaron a este peludo exhausto a punto de morir…lo tranquilizaron, lo hidrataron y lo trasladaron a un lugar seguro
👍👍👍👏👏👏pic.twitter.com/L15J4DGU1H

— Guardia Civil 🇪🇸 (@guardiacivil) August 20, 2019