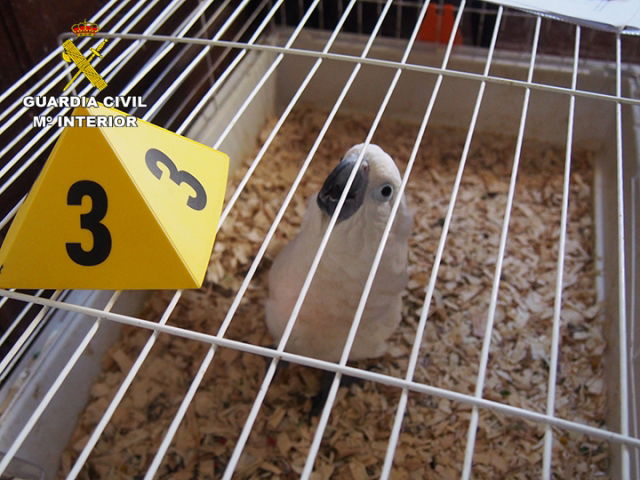 TEN members of an international organisation dedicated to the illegal trade of protected species have been arrested in Spain.
Nearly 200 animals have been rescued by police, amongst them exotic birds, mammals and reptiles.
Most of the animals were being kept in the Costa del Sol resort town of Fuengirola and the inland town of Ronda in Andalucia.
In a twist to the 'usual' animal smuggling trade, the exotic creatures were being smuggled illegally from Europe to Morocco and then on to other African countries.
The operation, coordinated by Europol and with the participation of Portugal, Slovakia and Morocco, was initiated following a complaint made by a citizen through the conservation organization SEO/Birdlife.
This organisation and the Nature Protection Service (Seprona) of the Guardia Civil collaborate in the European project Life Guardians of Nature, whose lines of action include combating the illegal trafficking of species.
Police verified that the arrested people bought the animals from different suppliers based in Spain and other EU nations and, after storing them in a pet shop in Fuengirola and in a house in Ronda, they smuggled them to Morocco.
The structure of the organisation was based on four people. One of them, was responsible for acquiring the specimens in different EU countries, in addition to Spain, Portugal, Germany and Slovakia.
A pet shop in Fuengirola was used as cover for acquisition and transport of the animals.
The organisation included a vet who issued the necessary health certificates for exotic animals, although he did not officially register them as he should have.
Finally, a Moroccan subject living in Melilla was in charge of distributing the animals in Morocco. He contacted buyers through social networks and personal contacts and used "mules" for the border crossing between Melilla and Nador, the main route used for the exit of the specimens.
This investigation uncovered for the first time the existence of an emerging market in Africa which, through Morocco, demands a large quantity of exotic animals that are illegally imported, mainly birds and reptiles.