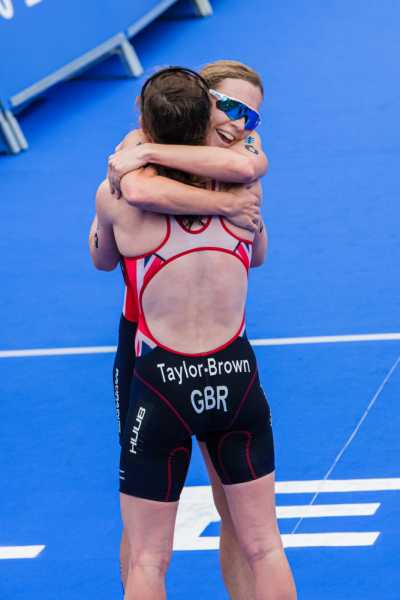 Yesterday (Thursday) morning saw the Elite Women of the World Triathlon scene battle out under excruciating conditions for a qualifying spot for Tokyo 2020.
For the British triathletes Jessica Learmonth and Georgia Taylor-Brown who crossed the finish line joint first, it should have been a moment of pure triumph. They had matched each other throughout the race, stroke for stroke, pedal for pedal and stride for stride. Breaking away from the field on the final run segment giving them both a clear lead of the rest of the field. Just moments before the finish line, they spontaneously joined hands to celebrate their victory.
The tears of joy soon however, turned to tears of heartbreak. They had been disqualified. Unaware, they had fallen foul of the International Triathlon Union's competition rule 2:11, which states that triathletes must not "finish in a contrived tie situation where no effort to separate the finish times has been made". An appeal was rejected and compatriot Vicky Holland was upgraded to third.
Why Learmonth and Taylor-Brown were disqualified and Brownlees were not?
Back in 2016, an exhausted Jonny Brownlee was helped over the finish line by his brother Alistair at the Triathlon World Series in Mexico. Neither sibling was penalised because Alistair pushed his brother ahead of him on the line, clearly identifying, in this way, their finishing positions. Neither were disqualified, however playing the good Samaritan was subsequently banned by the ITF. Rule 2.2.c now states that: "an athlete cannot physically assist the forward progress of another athlete on any part of the course. This will result in both athletes being disqualified."
What had made the performances of Learmonth, 31, and Taylor-Brown, 25, so impressive was they had to battle through extreme heat in Japan's capital, with temperatures rising well above 30C and the humidity pushing above 80% despite a 7.30am start. The running section of the race was cut by the official organisation from 10km to 5km because of the extreme heat at the Olympic test event. This measure has highlighted other concerns. With less than a year to go until the start of the Olympics, it has become a underlying worry as to how competitors and spectators will cope with the extreme heat which has killed at least 57 people across Japan during the past fortnight. Earlier this week several athletes were also treated for heatstroke at the world rowing junior championships in Tokyo.