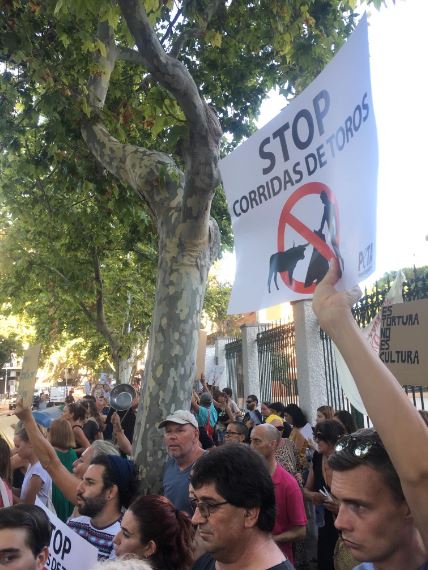 Hundreds of people gathered outside the Coliseo Balear to protest against the recently approved bullfight on Friday in Palma, Mallorca.
False reports have stated that only 300 people showed up to protest against the controversial event but witnesses and protestors have taken to social media to highlight that there were many more and that the 300 was representative of only one group of protestors.
A large number of the 8,000 people that decided to attend the bullfight donned Spanish flags, played the far-right song "cara al sol" to the protestors and mimicked bulls whilst others held their hands up in the "Nazi salute".
The conflict of opinion comes from the animalist groups who believe that bullfighting is "barbaric" and the other side who believe that it is a matter of Spanish tradition and culture.
John-Paul Jeffs, a resident of Palma told us "it was emotional to arrive and see all of the people protesting against the bullfight. We were met with hostility and blaring music by the organisers and supporters of the bullfight and I was shocked to learn that people were leaving as the bulls were killed and then going back in to enjoy the show".
He added that "being present made a difference. I saw an elderly couple change their mind about buying a ticket for the show when they saw us and they were cheered by all of us as they walked away from the event".
Many Facebook groups have started to post pictures of the event itself, the bull after it had been killed, and the protestors with heated arguments erupting between the two opposing sides. There also calls to boycott Coca-Cola as their banners were draped over the side of the venue as sponsors.
The protestors hope that they made enough of a difference to end the bullfights and that the "torture is not culture" slogan reaches enough people to change their mind about attending future bullfights.