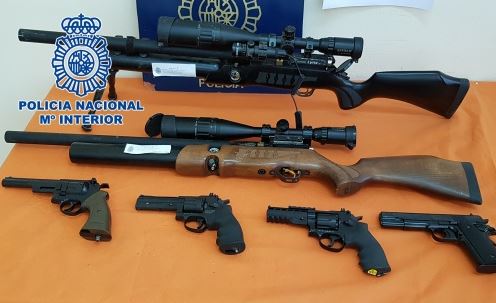 ACTING on a tip-off police have found an arsenal of weapons when raiding a 'narcoflat' drugs distribution centre in Barcelona.
A total of 13 firearms and 21 knives, including five long weapons, a crossbow, a flare gun and seven catanas, were found.
National Police arrested three people in Pineda de Mar (Barcelona) who were cultivating and distributing drugs. In addition, the electricity needed was illegally and dangerously connected, which put neighbouring properties at risk.
The investigation was initiated thanks to an anonymous complaint received through the web portal www.policia.es/colabora.php that allows people to confidentially provide information about possible crimes.
Police put in place a surveillance operation and saw the property was frequently visited by drug addicts.
They learned that the toing and froing of these people had started to cause alarm in the neighbourhood due to frequent disputes and brawls that took place between the drug addicts.
Police raided the property and found 530 grammes of marihuana, 71 tablets of amphetamines, 23 grammes of MDMA, 38 grammes of hashish and €1,500 in cash. In addition, they seized five precision scales, the weapons and a large quantity of ammunition.