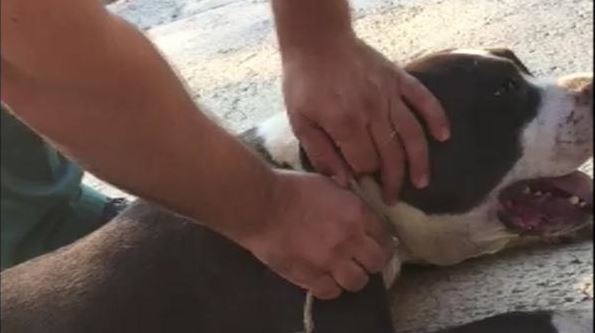 THE Guardia Civil who rescued a dog that was choking to death after it had been tied up with a length of string using a slip knot followed it home to find its owner.
They had been called to a plot of land in the municipality of Guillena (Sevilla) by concerned neighbours who reported there was an American Staffordshire in a very poor condition. Officers arrived in the nick of time – they found the animal close to death as the string had tightened around its neck.
They cut the cord then, with the help of neighbours, cooled the dog and rehydrated it. It took 20 minutes to revive the animal, say police. Once back on his feet the pet headed for home, and officers simply followed it to find its owner. They discovered two more dogs, which appeared to not be adequately cared for.
Guardia Civil are now investigating the unnamed owner for five counts of animal abuse.