This week Celebrity Chef from Ready Steady Cook & Fellow Master Chef Steven Saunders, proprietor of The Little Geranium in La Cala cooks a special tasting menu for the children!
THE first book that I ever wrote was called Only The Best published by Little Brown in 1993.
It was a book about cooking for children because at that time my daughter Serena was about three and Stefanie was about one and I struggled to make food every day that they would both eat. So I wrote a book with ideas and recipes to help people like me!
I remember that I made loads of purees for Stef from the fresh vegetables we grew in the garden to eat with things like salmon with no bones, tuna with pasta and home-made soups, but Serena was not easy!
She liked most meats and loved strawberries, but didn't really like soup or fish (except scallops!) and she didn't enjoy vegetables except broccoli and she wouldn't eat pasta dishes.
I remember going to a PTA meeting at Serena's school and the teacher pulled me aside. The teacher explained that in class they had a discussion about favourite foods, most of the children loved baked beans and sausages and things like that. When it came to Serena she said that her favourite food was hand dived King Scallops, but they had to be hand dived.
"What did she mean by hand dived?" the teacher asked. So I explained what it meant and I included the fact of how important it was as no other sea or marine life is killed or affected when they are caught this way.
I explained the other fishing option was using large nets off the back of boats, they scooped up scallops from the sea beds, but also a lot of other fish and sea life at the same time killing millions of small fish, plants and sea life that were happy settled at the bottom of the sea!
The teacher said "OMG thank you so much for teaching me that, now I know why Serena's dad is a top chef!"
Winding back a little further, when I was young my mother used to make me a smoked salmon dish like a little mousse every so often and whilst I didn't like fish that much, I loved her salmon mousse as it looked so posh and I loved eating it with crispy hot toast whilst watching Blue Peter.
In 1992 I made one of my first appearances on TV with Serena cooking her a veggie burger made with baked beans. The show which went out on BBC2 was trying to get families to cook fresher, more healthy dishes for their children.
So recently we had a family book in to the Little Geranium with young children, so I created a tasting menu for the children at their request.
The dishes looked like the adult tasting menu, but had a more kid- friendly twist! I discussed the menu with the children afterwards and they told me…" it was lovely to eat interesting foods and we really loved the presentation!"
I asked which dish they liked most and they told me that they adored the smoked salmon terrine, I was surprised!
It only goes to show that what we think our kids love (like chips and burgers or chicken and chips etc) is only our impression and not theirs!
Their menu started with a gazpacho of watermelon with creamy goat's cheese mousse, followed by a little terrine of home smoked salmon and hot walnut toast.
Then we served a crispy duck salad (Princess Diana's favourite) and then wild sea bass with samphire and followed that with beef wellington, carrot puree and truffled mash.
For dessert we made a mini kilner pot of home-made ice creams with toffee sauce and chocolate balls. A special dinner for a lovely family.
Steven Saunders's opinions are his own and are not necessarily representative of those of the publishers, advertisers or sponsors.
Steven's Smoked Salmon Terrine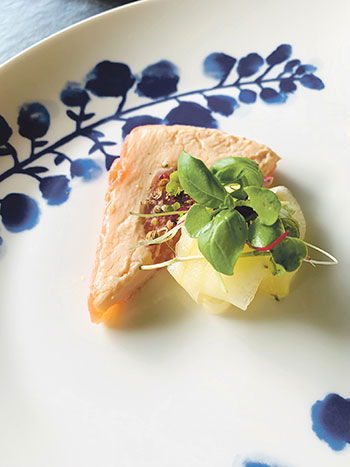 So this week I am letting you have my smoked salmon terrine recipe. It's a beautiful rich, soft, creamy dish ideal as a snack or starter for everyone. It freezes well and so can be made in advance and is a show stopper for any dinner party.
So even if you are not planning to cook a posh dinner party for friends (or your kids!) then tear out this recipe and keep it because Christmas is coming and I can't imagine anything better than a smoked salmon terrine sat in the middle of the table served with crusty toast on Christmas Day!
Steven's Smoked Salmon Terrine
1kg of best sliced smoked salmon
250g of unsalted butter
200ml of cream
A little olive oil
Juice of 1 lemon
Walnut bread
Crushed pink and green peppercorns (optional)
Method
Make a clarified butter. Melt the butter completely in a saucepan. Once it has separated, use a spoon to carefully remove the milky residue on top and discard.
Lay some of the salmon slices across the inside of a terrine mould that has been lined with cling film flowing over the sides.
Ensure that the smoked salmon overlaps and is long enough to reach up the sides of the terrine and cover the top when filled. Place the remaining smoked salmon in a food processor and blend until smooth
In separate pans, warm the cream and clarified butter. Slowly add the cream and then the butter to the processed smoked salmon and blend until smooth. Season if needed, but taste first.
Pour the salmon mixture into the terrine mould, and fold over the overhanging salmon slices to cover the top. Cover the whole terrine with cling film and place in the fridge to chill for six to eight hours.
Slice thinly and sprinkle with the crushed peppercorns and serve with toasted walnut bread.