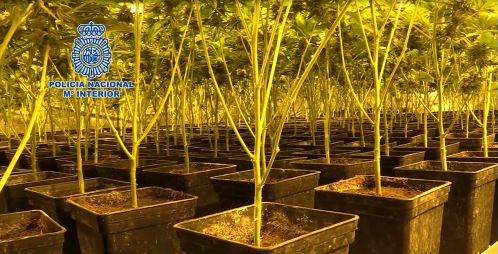 SPAIN's National police have led an international operation against gangs trafficking Marihuana.
More than 2,000 officers from Spain, the UK, Netherlands, France, Serbia, Italy and Portugal have been involved, 814 people arrested and 300 marihuana plantations in Spain closed down.
In addition, 176,970 marihuana plants have been seized and a total of 4,516 kilogrammes of marihuana, 5,487 kilogrammes of hashish, 1,748 kilogrammes of cocaine and 13 kilogrammes of heroin confiscated.
Operacion Verde (Operation Green) started in February and also involved Interpol and Europol. It was launched after a study and analysis of drug trafficking in Spain uncovered the international links involved in the marihuana trade, with criminals from all over Europe setting up their own cultivation and supply chains in the country.
Several international operations in recent years had a common link – Spain was the origin of the marihuana sold all over Europe. Investigators found that marihuana plantations had become increasingly sophisticated, more intensive and yielded far more of the crop than in the past.
These plantations are installed in all types of homes, garages, industrial buildings and even public buildings. In addition, the operation also evaluated the cost to electricity companies of fraud from illegally hooking up to the supply.
In total, and taking into account that 176,970 marihuana plants have seized, it is estimated that the fraud amounts to €1,769,700 per quarter. Agents have also detected that the cultivation of marihuana brings with it a variety of related crimes, such as trafficking of cocaine and heroin, illegal possession of weapons, money laundering, and membership of criminal organisations.
In addition to the arrests and drugs found, police seized 197 vehicles, €1,559,992, £1,500 and 2,645 yuan in cash, 44 small arms, 31 long weapons, 32 fake guns and six Tasers.