This week Celebrity Chef from Ready Steady Cook & Fellow Master Chef Steven Saunders, proprietor of The Little Geranium in La Cala cooks a vegetarian risotto for the Royals.
LAST week I wrote about my watermelon gazpacho that we are currently serving as the amuse bouche at the restaurant.
I created the flavours when I was cooking a special charity dinner for the Royal Family.
At that dinner we prepared a white truffle and mushroom risotto as one of the courses which was hailed as the best ever and on the back of the press coverage it brought in many new clients coming for the risotto!
"We are not an Italian restaurant nor are we vegetarian," I told people, but either way they wanted the risotto so we have it on the menu at The Little Geranium because clients won't let me take it off!
In the 1990s we seldom had a vegetarian client maybe one or two a month, but that is all. Nowadays we have two or three every night, how things have changed! We also have vegan clients and I offer a special vegetarian and vegan tasting menu each night and of course in London vegan food is very much on trend.
Most nights my waiters come to me saying that they have a vegetarian client, but they can eat fish. "That's not a vegetarian!" I reply, but not all clients understand the difference.
We call someone who eats fish but not meat a pescatarian, but a vegetarian will eat dairy (cheese, cream, milk, butter etc) but prefers to be meat and fish free.
A vegan will not eat fish or meat or any by product from animal produce like dairy and so the dishes I create for vegans are far more limited, but not impossible.
We make our own tofu for example and I always have loads of daily fresh vegetables, pulses, herbs and spices and I create many interesting dishes with it all.
The mushroom risotto recipe below can be either vegan or vegetarian with a minor change which is explained in the ingredients. If you fancy a break from meat and fish then this is an excellent way of eating a beautiful dish without feeling cheated!
When I cooked for the Royal family they often requested a vegetarian dish. Princess Diana loved my mushroom risotto so I prepared this for some of the Royal events.
Whilst we became quite famous for her passion about our crispy duck salad (still on our menu) no one ever mentioned her love for the mushroom risotto. On one occasion Prince Charles approached me and asked if I could make an organic version of the mushroom risotto.
I remember explaining that the mushrooms are wild mushrooms (they grow in the wild) so they can't be organic as such as they are not farmed or controlled in an organic environment. You could use organic mushrooms that are farmed organically, but they are not wild and not as good.
Organic rice is available pretty much everywhere and you can get organic olive oil, onions and garlic etc easily so I recall saying "yes it can be organic but we lose something from using the organically farmed mushrooms and eliminating the wild and more natural ones."
"OK then," he said, "use the wild mushrooms, but don't tell anyone!"
Prince Charles has a terrific sense of humour inherited from his father Prince Philip. When I opened my Manchester restaurant called…Steven Saunders at the Lowry, Prince Philip asked me who the window cleaner was, staring up at the ceiling and high walls. (The building is 90 per cent glass)
"I am not sure," I replied and then suddenly the penny dropped and I laughed out loud. Prince Philip is the most humorous Royal!
Prince Charles is a fantastic ambassador for organic produce and his home (Highgrove) has its own shop that sells organic produce and his Duchy range. The organic lamb I used to buy from Highgrove was inexplicably amazing, but his organic mushrooms… well the wild ones are better and he knows it!
Steven Saunders's opinions are his own and are not necessarily representative of those of the publishers, advertisers or sponsors.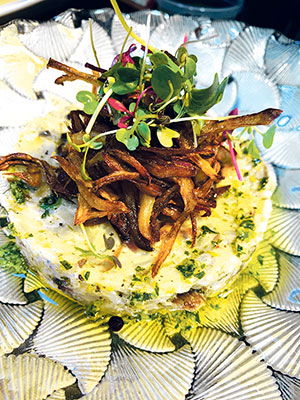 Mushroom risotto
Ingredients (Serves 4)
4 tbsp of extra virgin olive
1 onion, chopped finely
2 cloves of garlic crushed and chopped finely
Approx 300g of risotto rice rinsed under cold water
A glass of dry white wine
1 small packet of dried (Porcini style) mushrooms
1 tablespoon of vegetable stock bouillon diluted in boiling water to create 250ml
200g of wild mushrooms, cleaned
250g of chestnut or button mushrooms washed and sliced thinly
2 tbsp finely chopped fresh parsley
4/6 teaspoons of white truffle oil, to taste
1 tablespoon of fresh white truffle shavings (optional)
4 tbsp freshly grated Parmesan cheese (if vegan then use a vegan cheese here)
1 onion sliced thinly, tossed in plain flour for deep frying
Maldon salt for seasoning
Method
Pour boiling water over the dried mushrooms and leave to sit for 10 mins to create a mushroom stock, you need about 250ml.
Heat half the oil in a heavy-based saucepan and lightly sweat the onion and garlic slowly and on a low heat, don't let it colour.
Add the rice and then the white wine.
Mix the mushroom stock and the vegetable stock (in the ingredients list) together to create 500ml of stock. Warm this in a separate sauce pan.
Pour in some of this stock through a fine sieve, enough to cover the rice. This allows the risotto to absorb the stock and intensifies the flavour.
Gradually add more stock as the liquid is absorbed and cook slowly stirring regularly until it cooks and holds together. (If it needs more stock make a little more.)
Prepare the wild mushrooms by wiping them clean and slicing them in halves or if small leave them whole. You want to see them in the risotto.
Slice the other mushrooms finely.
Heat one tablespoon of the olive oil in a frying pan and add all the mushrooms. Cook and season them.
Stir the mushrooms into the risotto which should be now cooked and add the Parmesan cheese and remaining olive oil, stir in well.
Taste and now add the fresh truffles (if using them).
Add the chopped parsley and finally the truffle oil, taste and season.
For the crispy onions simply toss them through the flour and deep fry at 190ºC until crispy.
Serve the onions on top of the risotto and drizzle the whole thing with more truffle oil and enjoy!