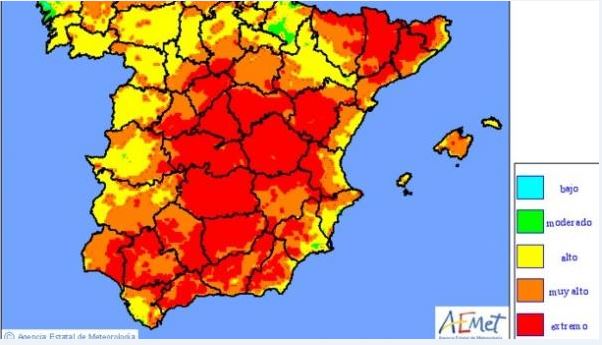 THREE quarters of Spain has been put on alert for an "extreme" or "very high" risk of fires today (August 6).
According to the State Agency of Meteorology (AEMET) 18 mainland the Balearic Island provinces are at risk of bush fires as temperatures reach 39 degrees Celsius.
The provinces of Almeria, Cordoba, Granada, Jaen, Malaga, Huesca, Teruel, Zaragoza, Albacete, Cuenca, Lleida, Madrid, Alicante, Valencia, Ibiza and Formentera, Mallorca, Menorca and Murcia are all on yellow alert for high temperatures and the associated fire risk.
So far this year (up until July 28) fire has burned a total of 55,554.59 hectares, which is almost five times more than in the same period of 2018 (11,671.54 hectares burned), according the Ministry of Agriculture, Fisheries and Food (MAPA).
The formula used to measure the extreme risk of fire is known as the "rule of 30", according to which the ambient temperature must be equal to or greater than 30 degrees, gusts of wind greater than 30 kph and the relative humidity of the air less than 30 per cent.
At the moment the fires that are the most worrying are at Miraflores and La Granja. A forest fire at the top of Puerto de la Morcuera, in the municipality of Miraflores, has affected more than 300 hectares and the research department of Forest Fires of the Community of Madrid is already working to determine the causes.
In the case of the second fire in the Segovian town of La Granja de San Ildefonso, which has so far affected 250 hectares, firefighters from the Junta de Castilla y León and the Unidad Militar de Emergencias (UME) are working to extinguish it.