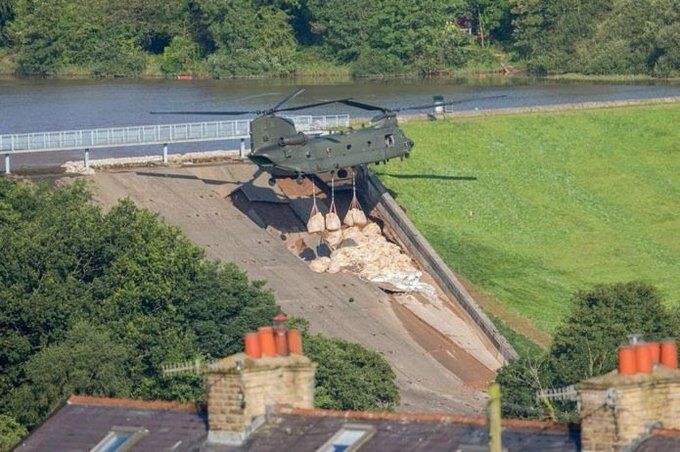 RESIDENTS of the Derbyshire village of Whaley Bridge have been evacuated by the British Army after part of the Whaley Bridge dam collapsed.
The dam, built in 1838, holds back nearly 300 million gallons of water on the Toddbrook Reservoir. The right hand section of the dam collapsed yesterday afternoon(Thursday), leaving local police forces to issue an evacuation order to the village residents directly in the path of possible flood waters.
Around 1,500 people have been requested to leave their homes whilst the work takes place to stabilise the dam.This morning, the Environment Agency is pumping water out of the reservoir whilst an RAF Chinook helicopter is being used to drop over 400 tonnes of aggregate onto the damaged section to divert water flow if the dam breaks.
Julie Sharman, from the Canal and Rivers Trust, said it was "a critical situation" but added that the weather had improved and the water levels had reduced by 20cm. "We aren't putting a figure on any risk of collapse but everything that can be done is being done," she said."
Many local businesses in the area have offered rooms and accommodation for the residents to ride out the warning, whilst many have collected important items and stayed with relatives.