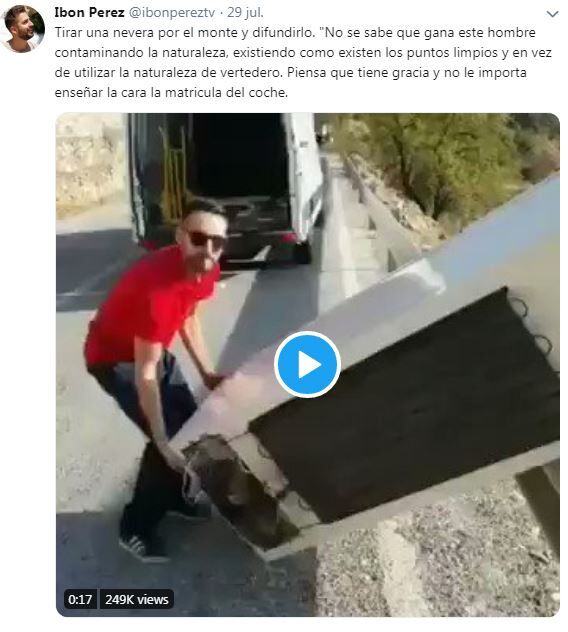 AN Olula del Rio electrical shop employee is in trouble with the authorities after a video of him tossing an old fridge down a hillside in the Los Filabres mountains did the rounds on social media.
"Recycling, we're going to recycle it", and "how many rollovers", he jokes in the video, in which not only is his face clearly visible, but also the licence plate of the van he was driving.
The Guardia Civil clearly didn't find the video funny. They announced on Twitter that the Almeria SEPRONA Nature Protection Service had identified the young man and was investigating the incident.
Today (Wednesday) the Guardia announced it had carried out an inspection of the business where the fridge dumper is employed "to determine the responsibility both of the person who appears in the video and the company for which he was working delivering domestic electrical appliances."
The Guardia statement said they found some 50 old washing machines left on waste ground and approximately 20 old fridges indoors. The premises has no container for depositing electrical goods, the statement continued, and the company has not handed over any proof of the elimination of electrical apparatus and electronics residues to an authorised agent for the 10 years it has been operating.
The investigation also revealed the young man had returned to the dumping spot since the video went viral and removed the fridge.
The Guardia said it will be informing the Junta de Andalucia's Agriculture, Farming, Fishing and Sustainable Development Almeria Territorial Delegation of the suspected failure to comply with regulations on electrical goods and electronics and would be continuing investigations to determine if there was also an environmental crime.