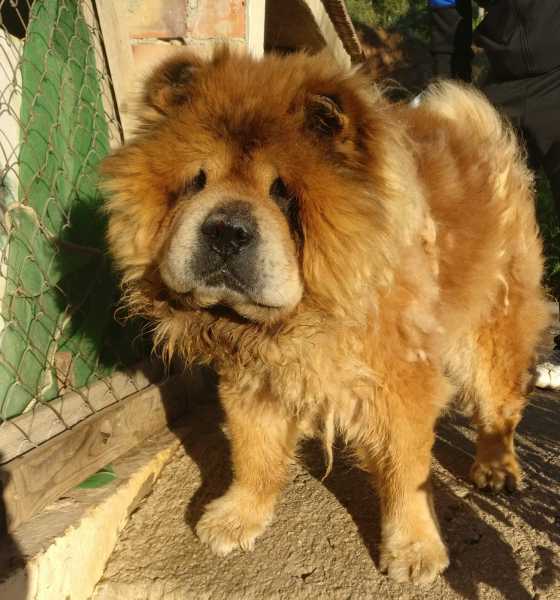 EVERYONE loves a happy ending, and in the case of Leo the Chow Chow there certainly has been one.
The lovable bundle of fur is happy and contented with his magnificent lion-like mane, but just six months ago his life was a misery, until he was taken in by Torremolinos man Neal Adams.
Leo had spent the first 12 and a half years of his existence chained up in a yard seemingly unloved. Day after day he had nowhere to roam and had just German Shepherd Sultan for company in their home in Benajarafe on the Axarquia (Malaga).
Bedraggled, diseased and uncared for, the two lovable pets had a bleak future. And for a Chow Chow well past his 12th birthday it looked likely to be a short one too.
That is until kind-hearted neighbour Maren Fuhrberg stepped in. The German national, who spends half her time in Spain and the rest of the time in her homeland, had set up local animal rescue charity 4Paws 1n 2016, with a particular aim of freeing dogs that spent their lives chained up.
Neal explained: "She had rescued just about every 'chained' dog within a five kilometre radius of her home, but ironically she had to see these two pets chained up next door for every day for three years.
"There was nothing she could do without her neighbour's permission."
But then a Christmas miracle happened, and not only were the dogs unchained but Maren's heart was too.
She chatted to her neighbours about the poor pooches' condition and they said 'we have an alarm now – if you want the dogs you can have them.'
Needing no second invitation Maren swung into action and put out a Facebook appeal for new homes for the animals.
This is where Neal came in. He explained: "I already had two Chow Chows and knew they could be difficult, so I thought the most I could do to help was foster Leo. It was clear he was unwell, so I arranged to meet him at the vets."
Little did the funeral director suspect just how ill the dog was. "When I got there he could hardly crawl in. He had many illnesses including Leishmania. He really was in dreadful condition.
"I just said 'I will take him now'."
And that was the beginning of a new life for Leo.
Neal had to take great care to socialise Leo with his two existing Chow Chows particularly as all three are male.
But Leo's loving nature shone through and they were soon living as one happy family.
Leo gained weight, regained health and found a contented life. But then came a setback for the cuddly canine. Due to sheer age and a previously poor diet he has brittle bones and he recently broke an elbow.
Neal said: "Such is the high pain threshold of Chow Chows he was walking on it the same day."
Leo was obviously in pain, but thanks to the best attention and care he is now back to his lovable self.
And there has been a happy ending for German Shepherd Sultan too. Maren has managed to find him a new home, this time in the UK.
Neal, who runs Funeral Care Spain, said: "Maren is fantastic and anything people can do to help her in her charity work should be encouraged."
We think that Leo and Sultan would agree!