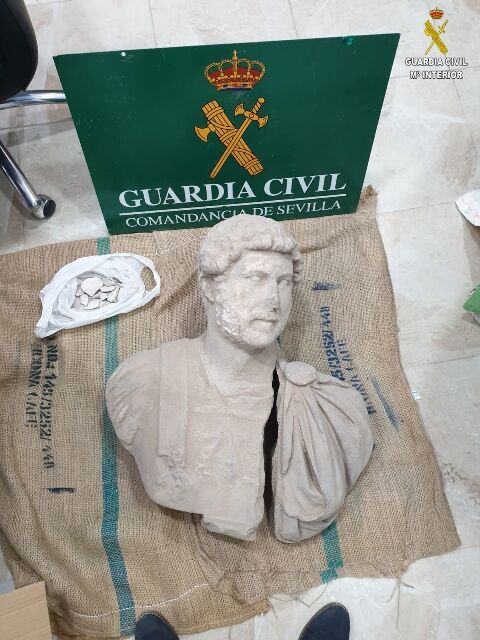 A UNIQUE bust of the emperor Hadrian dating back to the second century BC has been recovered by the Guardia Civil.
Agents belonging to the Heritage Team in Sevilla started an investigation when they learned that an archaeological piece of "incalculable" historical value was being sold for €500,000.
Investigators managed to identify the middle-man who was selling the item and put him under surveillance in a bid to locate the Roman bust.
Officers saw that the man from the town of El Rubio (Sevilla), always accompanied members of the same family when meetings and/or appointments with other interested people took place.
Therefore, the investigation focused on this family and police suspected the bust was being kept on a farm in the town of Ecija (Sevilla) owned by the suspects' parents.
After obtaining a warrant, officers spotted disturbed soil in a barn so decided to dig in search of the bust.
Buried just a few centimetres under the ground they found the piece.
The bust has been handed over to the Archaeological Museum of Sevilla, where it is currently being kept for study and eventual display.
Three members of the same family A.R.Q, J.R.Q. and C.S.R.Q, the first two 50 year olds born in Osuna, the third a 43-year-old born in Ecija and another person identified as P.J.C.M. aged 43 from the town of El Rubio, have been charged with a crime of misappropriation and a crime against historical heritage.
Police have not reported how they came to be in possession of the bust.