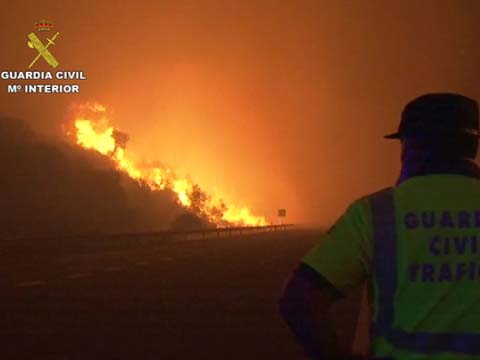 SPAIN's Guardia Civil has started a summer campaign against forest fires, and is warning arsonists it is out to get them.
The police organisation says that the main cause of the blazes that cause so much devastation to the country's forests is human activity.
It has pledged to investigate every fire and bring criminal charges, where the cause is either deliberate arson or negligence.
So far this year, the number of people arrested or investigated for this type of crime has increased by 90 per cent to a total of 178 people.
The Guardia Civil points out that forest fires have a devastating impact. One of the most visible consequences is the destruction of the ecosystem and the landscape. The destroyed vegetation provided oxygen, captured CO2, sustained the soil and provided shelter and food for a wide variety of creatures
The loss of soil through erosion is the most serious of all the consequences of forest fires and contributes to the desertification of parts of Spain as well as polluting and clogging waterways.
They also release significant amounts of CO2 into the atmosphere enhancing the greenhouse effect and adding to climate change.
So far this year the number of forest fires caused through criminal activity have risen by 140 per cent compared to the same period of 2018.
Now the Guardia Civil has reinforced the Nature Protection teams (SEPRONA) in the areas with the highest number of incidents with fire investigation specialists.
One of the biggest successes of Operation AGALLADEIRA II, developed by the Command of Ourense has been the arrest of one person accused of setting 16 forest fires. These were particularly dangerous as they were close to towns and so threatened people's lives and properties. He is being held in custody as he awaits trial.