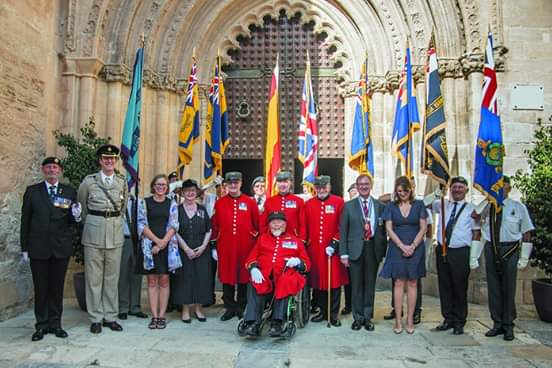 MORE than 400 servicemen and veterans attended the second Orihuela Armed Forces Day ceremony with many of them, led by the Torrevieja Pipes and Drums, marching the short distance from Plaza Teniente Linares to the 13th Century Orihuela Cathedral.
Their number also included 4 Chelsea Pensioners who had travelled to Spain especially for the event, as well as local D Day veteran, Joe (the Cat Man) Billet.
And joining the parade was the recently elected chairman of the Royal British Legion, Una Cleminson, who flew from London for the event.
After arriving at the cathedral, a 45-minute service was held in English and Spanish, conducted by the Chaplain of the Royal British Legion, Pastor Keith Brown.
During the reading, the Chelsea Pensioners marched into the Cathedral accompanied by "Boys of the Old Brigade" played by the band of the Royal British Legion.
During the service there was further music from the Royal British Legion Band in Spain, the wonderful Crescendo International Choir, led by Irene Oliva and opera singer Valerie Lynch.
Both Una Cleminson and Councillor Rocamora addressed the congregation during the service and in his sermon, District and Branch Chap
lain Keith Brown singled out the Chelsea Pensioners along with Joe Billet, to whom he said: "we all owe so much."
Following the service a reception was held by Orihuela Council.
The RBL would like to thank former Councillor for Foreign Residents, Sofia Alvarez, and her assistant Fermin Gonzalez, who were instrumental in putting the event together, and in providing free coach transport to Orihuela, photographer David Stokes, along with organiser Eddie Coleman and the members of the Orihuela Costa and District Branch.
Huge thanks are also given to the choir, the singers and musicians who all made the event so memorable, the Crescendo International choir, Valerie Lynch, Stevie Spit and the RBL Concert Band Spain.