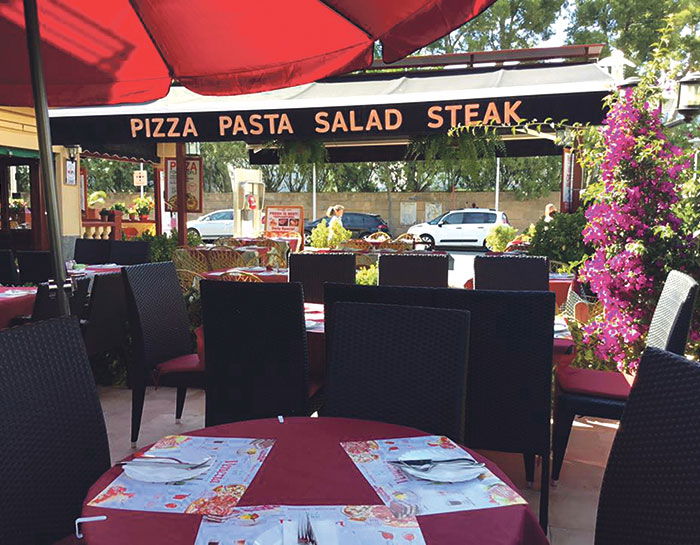 PIZZAS and pastas, of course they are the much loved staples of any Italian restaurant, but Restaurante Pizzeria Venezia offers these favourites and so much more.
Situated between Palma Nova and Magaluf, just 50m from the House of Katmandu, Pizzeria Venezia has been open since 2000 and has served thousands of happy guests since then.
Owner Luigi has been cooking Italian food for decades before opening this little gem of a restaurant. He uses only locally sourced fresh products and makes his own pasta dough every day, even using distilled bottled water instead of tap water, to ensure the doughs are the best they can be.
Paying particular attention to detail, Luigi is careful where he sources his ingredients and products from and grows his own herbs to make sure they are not tainted by preservatives.
It is these small details that make the big differences and is one of the reasons why Pizzeria Venezia is one of the best restaurants around for Italian cuisine and why customers return time and time again, with the majority of the clientele being locals who have supported and endorsed the restaurant for years.
Whilst Luigi specialises in traditional Italian cuisine, the menu is full of sumptuous steak dishes and fresh fish and they are pleased to announce a number of new dishes with a more Mallorcan flavour.
These fusion dishes, including seabass, sirloin steak and spicy prawn pasta, are already proving popular amongst the diners, as are the naughty sweet treats. The home-made desserts always go down well, including cheesecake, pannacotta and tiramisu, all carefully prepared with loving care by Luigi's wife Loli.
Gluten-free pizzas and other options are also available to those with special dietary requirements.
Five-star reviews and highly complimentary comments flood TripAdvisor praising the restaurant and Pizzeria Venezia has received a Certificate of Excellence for their fantastic cuisine and customer service.
So whether you fancy a quality home-made pizza, slow-cooked shoulder of lamb or even their famous spicy tagliatelle with prawns, then book your table now at Pizzeria Venezia and download the new Pizzeria Venezia app.
Restaurante Pizzeria Venezia – Avenida Pedro Vaquer Rames 22, Magaluf. Tel: +34971683288