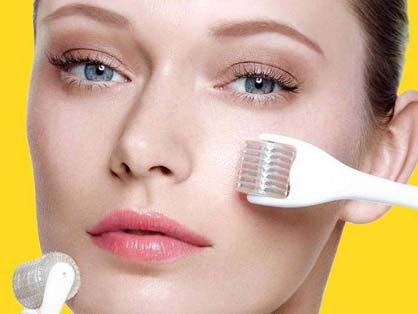 DONE by a dermatologist or DIY at home with a tool like a paint roller with a head of needles, the American Academy of Dermatology claims micro-needling is the ticket to boosting collagen, minimising wrinkles, smoothing scars and recapturing youth.
A minimally invasive procedure micro-needling (also called Collagen Induction Therapy) pinpricks the face with invisible puncture wounds. Deeper layers of skin respond to this stimulation by rebuilding with collagen-rich new tissues; collagen a protein keeping skin youthful, firm, and which when lost results in visible signs of aging.
Board-certified dermatologist Sejal Shah, MD says: "It works the same way lasers do, only you're injuring the skin mechanically instead of using heat or light and is better tolerated with fewer side effects and less downtime"
With immediate results, micro-needling improves skin tone and texture giving an instant radiant glow and plumping the face whilst using only the body's natural healing mechanisms and therefore giving very natural results. Stimulating collagen in and around pores causes a 'filler effect' allowing them to appear dramatically reduced if not closed.
Long term results also look promising with a study in 2008 on 480 patients treated with four micro-needling sessions producing a 400 per cent increase in collagen and elastin six months after completing treatment.
Micro-needling is also effective in the treatment of scars, stretch marks and sun damage, including the discolored hyperpigmentation or melasma and unlike laser or chemical peels can be applied to any area of the body.
Gabe Lubin, founder of Cartessa Aesthetics, on the benefits of professional treatment as opposed to at home micro-needling said: "Physicians can select with robotic precision the exact depth best for each patient's skin type whilst using secondary treatments such as radio frequency for fine lines, blue and red LED for scaring and the application of specialist tailored anti-aging preparations to treat multiple skin concerns."
Whilst professional grade micro-needling needles can be as long as 3 mm, at-home rollers do not normally have needles longer than 1.5-mm, a needle long enough to treat fine lines and faint scarring.
At home, micro-needling is most effective when used with skin care treatments such as anti-aging serums. Normally only up to eight percent of skin care product applied penetrates the skin with the rest going to waste. The thousands of tiny, invisible punctures created by micro-needling act like channels allowing more product to absorb and work more effectively overall.