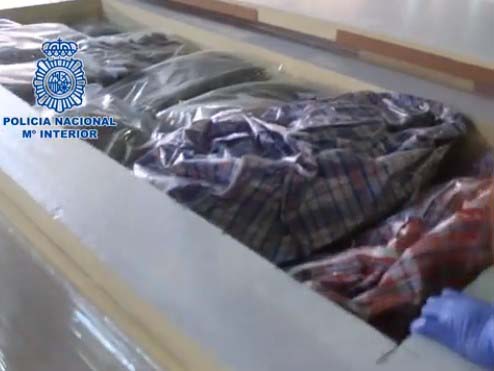 A LORRY containing over 1,000 kilograms of Hashish and 225 kilograms of marijuana has been intercepted on the way to Malaga, destined for Holland.
The National Police made the arrest as part of the 'Coffee Operation', a large scale drug trafficking operation based in Spain but linked to countries across Europe.
The police received a notification of a Dutch registered lorry parked at the Centre of Transport of Merchandise of Malaga. In the early hours of the morning of Monday the truck was recorded to have left the centre and headed along the a-357 towards Malaga.
It appeared to be flanked by several "support" cars as it made its way along the highway. It was intercepted at around 11am by National Police officers and on inspection contained eight pallets of extruded polystyrene.
Police sniffer dogs were used and the illegal load was quickly identified as being placed in the hollowed out containers. Along with the large drug seizure, €2.700 euros in cash and the truck and trailer were seized.
The truck unit was registered to a Dutch transport company and the driver, a 50-year-old Dutch resident was arrested on suspicion of drug trafficking.