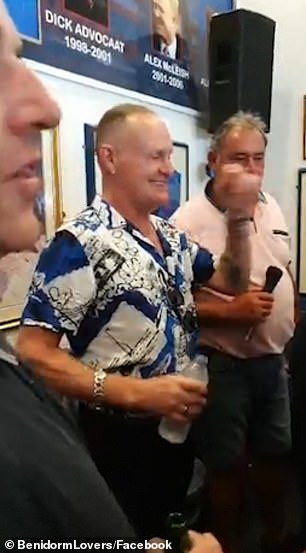 GAZZA has been spotted joining in with the raucous chant 'F*** the Pope and the IRA' at his own event in the Ibrox bar in Benidorm.
The ex-England midfielder who played for renowned protestant club Rangers held an event called 'Sash Bash with Gazza' at the bar named after the club's football pitch in Glasgow.
Rangers' fans flocked to see the 52-year-old Geordie hero who had been suffering from alcoholism ever since quitting football some 15 years ago 'bash' the sectarian state who had previously sent him death threats after repeated gestures mocking them.
The fines and threats have not deterred him though as he seemed in good voice standing under a picture of the queen.
Some Gazza fans had a go at his management team for letting him go to such a booze up citing his struggles with alcohol, but he is seen with a bottle of water in hand at the bar so it can only be assumed that he is staying strong and sober.