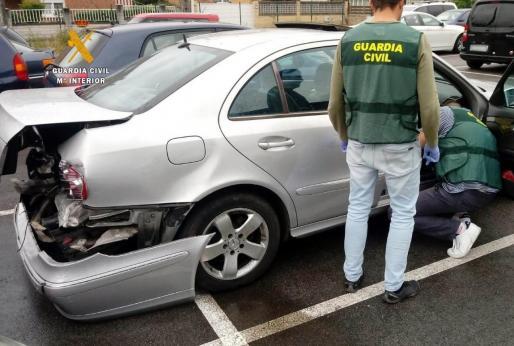 THREE police officers were injured trying to prevent a fleeing car from entering the A-67 motorway at Corrales de Buelna in the opposite direction.
The drivers of the car, two men aged 26 and 22 of Romanian nationality, were the suspected perpetrators of a robbery earlier in the day of five high end mobile phones in neighbouring town of Torrelavega.
The incident occurred at around midday yesterday (June 20).
A call was put out to officers that a reported robbery had taken place and that the accused had fled the scene in a silver Mercedes.
The car was quickly located trying to enter the A-67 motorway towards Palencia and an operation was set up by fellow officers to seal all exits along the stretch of road.
In an effort to confuse the chasing patrol cars the Mercedes left the motorway at the Los Corrales exit and attempted to rejoin the motorway in the opposite direction.
Given the inherent danger of driving against traffic the decision was made to intercept the vehicle by colliding with it, forcing him to stop.
After the collision the suspects ran into nearby woodland where one of them was quickly apprehended. The other after a search was detained later in the day.
Upon investigation the same group had been linked to another robbery earlier in the week of around €40,000 worth of electrical equipment.
An investigation is in place to determine any further links to unsolved robberies in the area.