This week Celebrity Chef from Ready Steady Cook & Fellow Master Chef Steven Saunders, proprietor of The Little Geranium in La Cala makes a healthy vegetarian Gazpacho with a twist.
THERE has always been confusion over what we can and what we can not eat.
We were told milk was very healthy for us and given it at school and punished if we didn't drink it, now we are told that it's one of the worst things that we can consume.
Then we were told that eggs were healthy and now we are told eating one egg a day could be as unhealthy as smoking five cigarettes a day!
Next we were told white meat is more healthy than red and now we are told that chicken and turkey are higher in carcinogens than other meats and therefore the worse food to eat, along with processed meats, sausages, hams and salamis (anything in a plastic pack usually) they are packed with saturated fat and are cancer promoting.
Fresh fish swimming in the sea, can be mercury sponges high in cholesterol and some with cancer promoting properties, especially farmed fish like salmon, its all a real shock and horror! What the hell can we eat?
I can pretty much guarantee that what we have been told over the years about our food is wrong and intended to be confusing.
One of the main reasons behind all the untruths is because some of the world's most important health organisations are funded by the likes of KFC, Burger King, McDonald's and some of the world's largest intensive meat producers.
These multi-billion dollar businesses will not allow anything to get in the way of their sales and our own advisory organisations which we trust, are told not to give out too much information, anything that could damage to these brand's sales, is totally taboo.
It's your food that causes all your problems, but we eat something bad for us every day and we don't know it.
You may as well smoke, if you don't already. Governments are not interested in helping to resolve this, because they are also funded by some of these billion dollar companies along with Monsanto who provide the chemicals that are sprayed on our fruit and veg.
Without Monsanto the world would be missing trillions of dollars of revenue from the chemical sales and loss of yield, millions of people would lose jobs.
So the governments choose not to make the spraying of crops or injecting of antibiotics and steroids into meat to promote fast growth, illegal. Doctors are told not to tell us too much as far as diet is concerned and they won't usually advise on diet at all.
Are they diagnosing too much and prescribing too often? They will often prescribe drugs made by the huge drug companies so that they make money.
We may have a cure for cancer, alzheimer's and diabetes, but no one will tell us because the drugs would cost too much to prescribe and then we would be overpopulated, millions of jobs would be at risk if suddenly no one was sick!
There are many TV documentaries covering some of these issues, but the best one I have seen is 'What the Health' (Netflix) – watch it! The bottom line is that unless you are eating the highest quality ingredients with clear provenance and in moderation then you are potentially at risk of getting something.
A plant-based diet (vegan) is better for us but it's only better if we can enjoy that kind of diet and to be honest not many of us can.
In my opinion, my little restaurant is what all food outlets should be about. We passionately buy the best, organic, free range meats, wild venison, free range un-injected chicken, sustainable fish from non-contaminated waters and organic fruits, vegetables and herbs.
But we are specialists and not a mainstream restaurant, so most could not afford to do this. The reason that a lot of outlets and restaurants offer you intensively farmed cheap injected meats packed with antibiotics isn't because they want to, it's because they can't afford to buy the best.
Their argument is that there isn't a market for it because the public demand cheap food, prices matter, even one or two euros!
I often stand outside my restaurant and hear people say… it's a great restaurant, but expensive. It's an oxymoron. Sure you can save a few euros if you go somewhere else, but how much could you save in the long run if you ate premium quality ingredients for the rest of your life! Watch 'What the Health' and then you decide!
On a lighter note, one of the nicest, freshest things to eat in this steamy heat is a cold vegetarian Gazpacho.
We make a gazpacho two ways. One is a feisty red gazpacho and the other a smooth, cool, mild green gazpacho. We mix them together so that you can see the two colours and get both flavours and textures. It is fantastic, here is the recipe.
Steven Saunders's opinions are his own and are not necessarily representative of those of the publishers, advertisers or sponsors.
Red feisty Gazpacho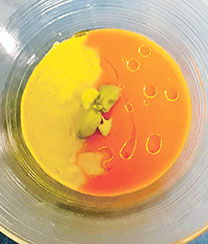 Red feisty Gazpacho (serves approx six)
Ingredients
Beef style ripe tomatoes 4-6, approx 500g
250g of red watermelon de- seeded and cut in chunks
2 cloves garlic (boiled in water for 3/4 mins to reduce harshness)
1/2 white onion, chopped
1 red pepper de-seeded and chopped
1/2 cucumber or 1 whole pepino
1/4 tsp ground cumin
1 red mild chilli (Jalapeno) de- seeded and rough chopped
1/2 tbsp of Maldon salt
100ml of truffle oil or extra virgin olive oil
For the gastrique
100g of sugar and 200g of red wine vinegar and a little water
Method
Make the gastrique by reducing the vinegar and sugar in a saucepan with a tablespoon of water until syrupy.
Put all the ingredients into a blender with the gastrique and blitz until there are no lumps.
Pour the mixture into a bowl and chill overnight if possible. The longer the better.
For the smooth cool green Gazpacho
Ingredients
4-6 Green ripe tomatoes, approx 500g
250g of avocado approx 3 avocados (de-stoned, peeled and sliced)
2 cloves garlic (boiled in water for 3/4 mins to reduce harshness)
1 green pepper de-seeded and chopped
2 handfuls of spinach leaves
1 heaped tablespoon of fresh basil leaves
1/2 cucumber or 1 whole pepino
1/2 tbsp of Maldon salt
Juice of 1 lemon
Method
Follow same process as above for red gazpacho making this version smooth and silky and not spicy. Taste and season and drizzle with a little extra virgin olive oil. Chill in fridge overnight.
To serve
Pre-chill the gazpacho bowls in the fridge for a few hours before.
Spoon 2/3 spoons of the red tomato gazpacho into a small bowl then 2/3 spoons of the green and keep topping up each side so that you have the divided colours in each bowl.
Drizzle with truffle oil and garnish with a tiny sprig of basil, serve cold.
Follow Steven on Instagram … saunderschef – Email any questions … steven@thelittlegeranium.com The Little Geranium, Winner of Best Contemporary International Restaurant 2019-Costa Del Sol – www.thelittlegeranium.com