Abarth is a performance car brand established 70 years ago and is now part of the giant Fiat Group, though the latest Abarth is a stand-alone sports model without any Fiat badges and establishes its own distinct identity.
The Abarth 124 GT is a classic rear-wheel-driven two-seater sports car with a 168 hp turbo-petrol engine – 30 hp more than in Fiat's own 124GT version – and is lighter, has firmer suspension and a limited-slip differential for greater traction.
The result is that the manual-gearbox Abarth has a zesty 0-100 kph time of 6.8 seconds and top speed of 232 kph (144 mph). Yet average fuel economy is still impressive at 15.6 kpl (44.1 mpg), with emissions of 148 g/km. Automatic transmission with paddle-shifters is also available.
Standard features include a removable carbon fibre roof, ultra-light alloy wheels, Bose sound system, dusk and rain sensors, rear parking sensors, adaptive front LED headlights, cruise control, digital radio, sat-nav and connectivity features, plus powered windows. Only a limited number of this specific model are being produced, priced at €37,890 (£33,625).
The carbon fibre roof weighs just 16 kgs, is lined on the inside and has a large rear window and defroster. The roof is removable but has to be left at home – it cannot be stowed in the boot.
The sleek exterior styling of this Abarth is eye-catching and a special Monza exhaust gives the car a superb throaty roar from quadruple tail-pipes which help emphasise its sporting credentials. The cabin seats two in comfort but stowage space is minimal – no glovebox, just a small lidded cavity between the seats, and two cup holders.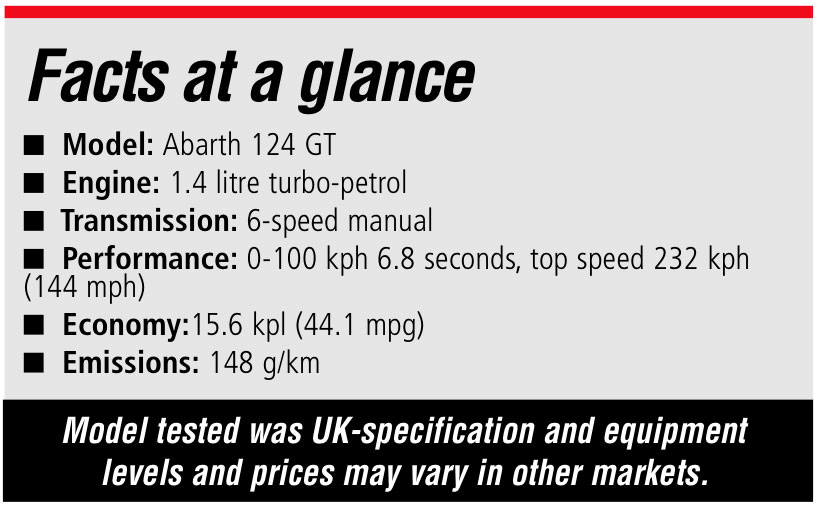 Luggage space is tight too at 140 litres, but the boot is quite deep so will accommodate a couple of holdalls or rucksacks. The dashboard is driver-focused with three dials located behind the steering wheel, the central dial being a large rev-counter.
Underway, the 124 GT provides a superb driving experience, quick but always composed, and gives excellent road feedback. The uprated suspension has been calibrated specifically to increase cornering and braking stability and the car feels assured and controlled even at speed on twisty roads.
Rivals in this niche sector include its Fiat stablemate and the Mazda MX-5 RF, but the Abarth 124 GT, though higher priced, does offer a more exclusive and arguably more formidable image.