A FAIRGROUND ride turned into a scene of horror when it split in two leaving 28 young revellers lying injured amongst the wreckage. 
Most seriously hurt was a 13-year-old girl who was taken to hospital with head injuries after the incident at a fair in La Rinconada, Sevilla yesterday (June 8). Four boys, one in intensive care, aged between 12 and 14 are also still in hospital. Another four have been treated for broken bones. 
A spinning disc attraction appeared to have fallen apart. Video of the incident recorded shouts of "stop it, stop it" as the ride fell to pieces. It appears that the ride operator hit the emergency stop button, but it failed to work initially.
The ride was fully licenced and had passed safety inspections, according to the town hall. 
One fair worker said: "It's a disaster, there are 28 people, and it could have been worse."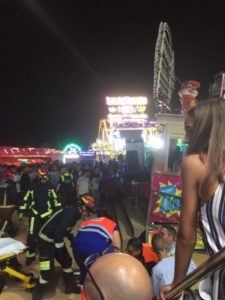 Accidente en la olla de la feria de #SanJosedelaRinconada
Esperemos que estén todos bien . pic.twitter.com/dVQSKZXXYa




— DV (@desevilla37) June 8, 2019