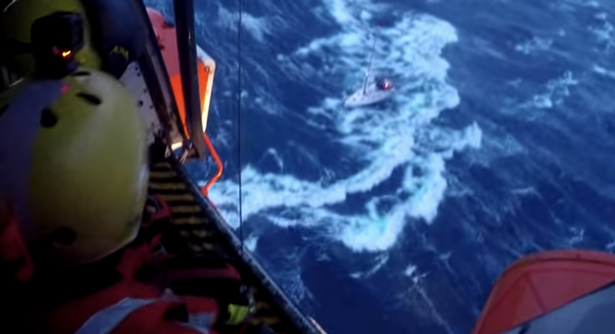 DRAMATIC footage of the rescue of five crew members of an Irish yacht foundering off the Spanish coast has been released. 
A Spanish Maritime Rescue (Salvamento Maritimo) helicopter was scrambled when the Loa Zour sent out a call for help at 8.30pm on Thursday during an Orange Alert for Storm Miguel. The storm had swept past the Atlantic coast of Portugal and Spain and up the English Channel. 
The yacht was about 85 nautical miles northwest of A Coruña when the incident occurred. 
The seas were too rough to attempt a rescue direct from the boat, which was bobbing and swirling dangerously. The crew had to leap into the sea one by one to be rescued by the helicopter. 
Maritime Rescue said winds of 60 knots (120kph) and waves from four to six metres made the task "very complicated". The four Irish and one Croatian crew members were winched to safety and transferred to Alvedro in Northern Spain in good condition. 
The yacht is thought to be out of Kinsale in Cork. 
Mar muy gruesa con olas de entre 4 a 6 metros. Vientos de 65 nudos lo que equivale a 120 km/h. En medio de este fuerte temporal la tripulación del Helimer 401 con base en A Coruña rescató ayer a las 22.41 horas a los 5 tripulantes del velero Loa Zour, con bandera irlandesa, a 85 millas al noroeste de A Coruña. El rescate fue muy complejo debido a las adversas condiciones meteorológicas. El Loa Zour se balanceaba mucho al estar totalmente a la deriva y ante esta situación el rescatador no podía descender al propio barco. Entonces los 5 tripulantes del velero fueron rescatados uno a uno del mar y posteriormente trasladados a Alvedro en buen estado. La coordinación de la emergencia la llevaron a cabo los controladores del Centro de Salvamento Marítimo en Finisterre y también participó en el operativo el avión Sasemar 102 de Salvamento Marítimo.




Geplaatst door Salvamento Marítimo op Vrijdag 7 juni 2019