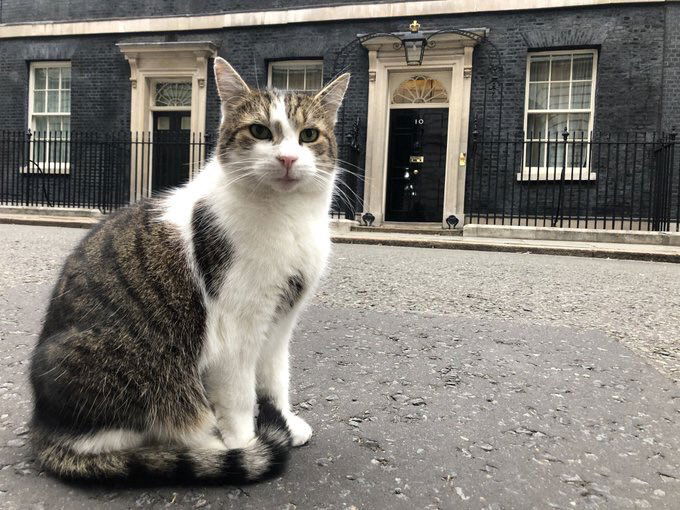 THE quiet dignity shown by Larry the cat on the doorstep of No 10 prior to Theresa May's resignation speech is what I would wish for in the next prime minister. Before Theresa May could make the farewell speech, the stage first had to be made cat-free.
For 30 minutes, Larry the Downing Street mouser had sat on the doorstep, his back turned scornfully against the media as if to say: 'What purrpuss do you serve? Are you fur real?' before the door swung open and he was ushered inside.
Theresa May led the Conservative party to a precipice; now that party is in danger of toppling over the edge. Its next leader has an unenviable task ahead. Bringing the party together will be as difficult as the Brexit negotiations, and the outcome just as unpredictable.
Currently, everyone's running in a self-indulgent leadership beauty parade. It'd be far easier if we had a list of MPs who AREN'T standing as candidates, it'd save time and space. And we can't rule out the possibility Theresa May misreads the mood (again) and throws her hat into the ring. And heaven help us if Failing Grayling – Theresa May's former campaign manager, overseeing a project that descended into chaos, delays, and ended in tears – should join the leadership scrum and win, it'd finish off the Tories (and the country) for good.
The old saying goes: 'We get the police force we deserve.' Well, we seem to be getting the prime ministers we deserve: spineless, two-faced, hypocritical, philanderers (Boris, not Theresa), misguided, targetless, frightened of their shadows (Theresa May again proving the point it's possible to do an impossible job badly. And she did). It's really hard to decide who exactly is the worst candidate: it's such a crowded field. A deeply shallow pool full of the ruthless toothless.
We're simply spoilt for choice! In conclusion, I propose a knighthood for Larry the cat! He's had to put up with so much, the poor thing must be so confused by the ever-changing personnel in his home… Nora Johnson's crime thrillers 'Betrayal,' 'The Girl in the Woods,' 'The Girl in the Red Dress,' 'No Way Back,' 'Landscape of Lies,' 'Retribution,' 'Soul Stealer,, 'The De Clerambault Code' (www.nora-johnson.net) available from Amazon in paperback/eBook (€0.99;£0.99) and iBookstore.
All profits to Costa del Sol Cudeca cancer charity.