THE MOTHER of a 15-year-old autistic boy has shared her son's experience with Ryanair at Alicante airport in Spain after the airline "refused to let him on the flight" and "wanted to charge to take his doll on board".
Helena Estrella, mother of Leo, stated how the low-cost airline "refused to let him fly home because he was distressed when they wouldn't let him have his doll and demanded payment for it as hand luggage".
Leo's carer, who was travelling with him at the time, "had NOT even refused the payment!".
She continued to explain how the situation caused her son to have a "meltdown" after Ryanair had called the police and four or five officers had surrounded him.
"Special assistance had been requested as not all disabilities are visible but we were told no by Ryanair because Leo can walk".
The mother stated that Leo's carer "was wearing the recognised Lanyair which is used to alert airport staff to a non visible disability".
Helena said that Leo was taken to the airport doctor and had to be medicated as he was highly distressed.
Ryanair proceeded to offload their luggage and "offered them no other way to get home".
After much desperation, Leo's carer went to the Jet2 counter and bought new tickets to get home.
Helen has praised the Jet2 staff for "the level of compassion and outstanding customer service" as they managed to get her boy home, "treating him with kindness, dignity and respect".
She continued to explain how one of Jet2's cabin crew staff had sat on the floor with Leo whilst trying to calm him down and that even the captain had checked on Leo's wellbeing.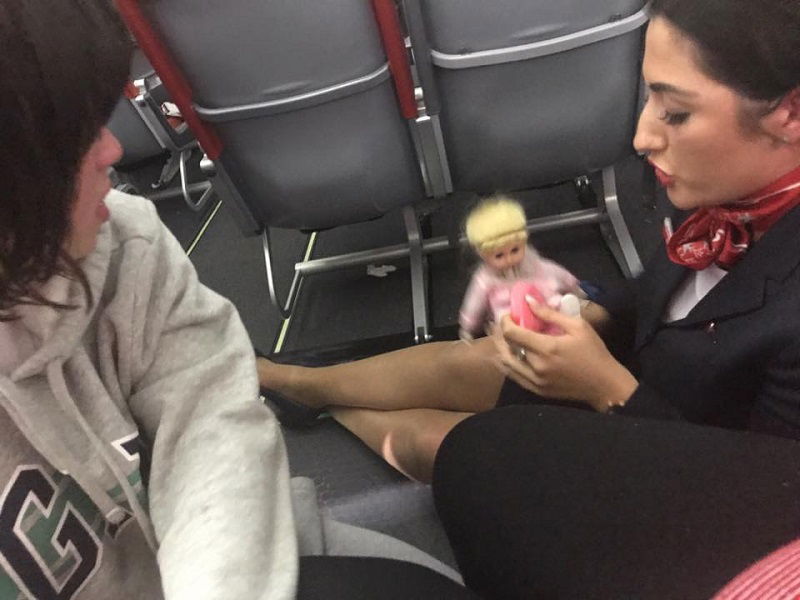 "Please accept my thanks for the bottom of my heart.", said Helen.
She has asked for everyone to share her posts on Facebook to highlight Jet2's outstanding customer service.
Ryanair replied to Helena, who also took to Twitter to report the incident, saying: "We are really sorry about this. We suggest you to contact directly the special assistence department".
Another Ryanair representative replied to Helena's third tweet: We are sorry to hear this. Please submit a complaint here contactform.ryanair.com and our customer service department to investigate".
Statement from Ryanair:
"This teenage passenger and his carer were provided with special assistance by Alicante airport after checking in. (All such assistance in Alicante is provided by the Airport Authority).
At passport control, the teenager became agitated and aggressive towards his carer and the carer took the decision not to travel. The passengers were then taken to the airport medical assistance team where the upset passenger received sedation.
As these two passengers never arrived at the Ryanair Boarding gate, their luggage was offloaded at the request of Alicante passport control staff, who advised Ryanair's gate agents that they had decided not to travel.
These two passengers did not arrive at the boarding gate, and therefore, they were not "denied boarding" and neither were they charged for any hand luggage."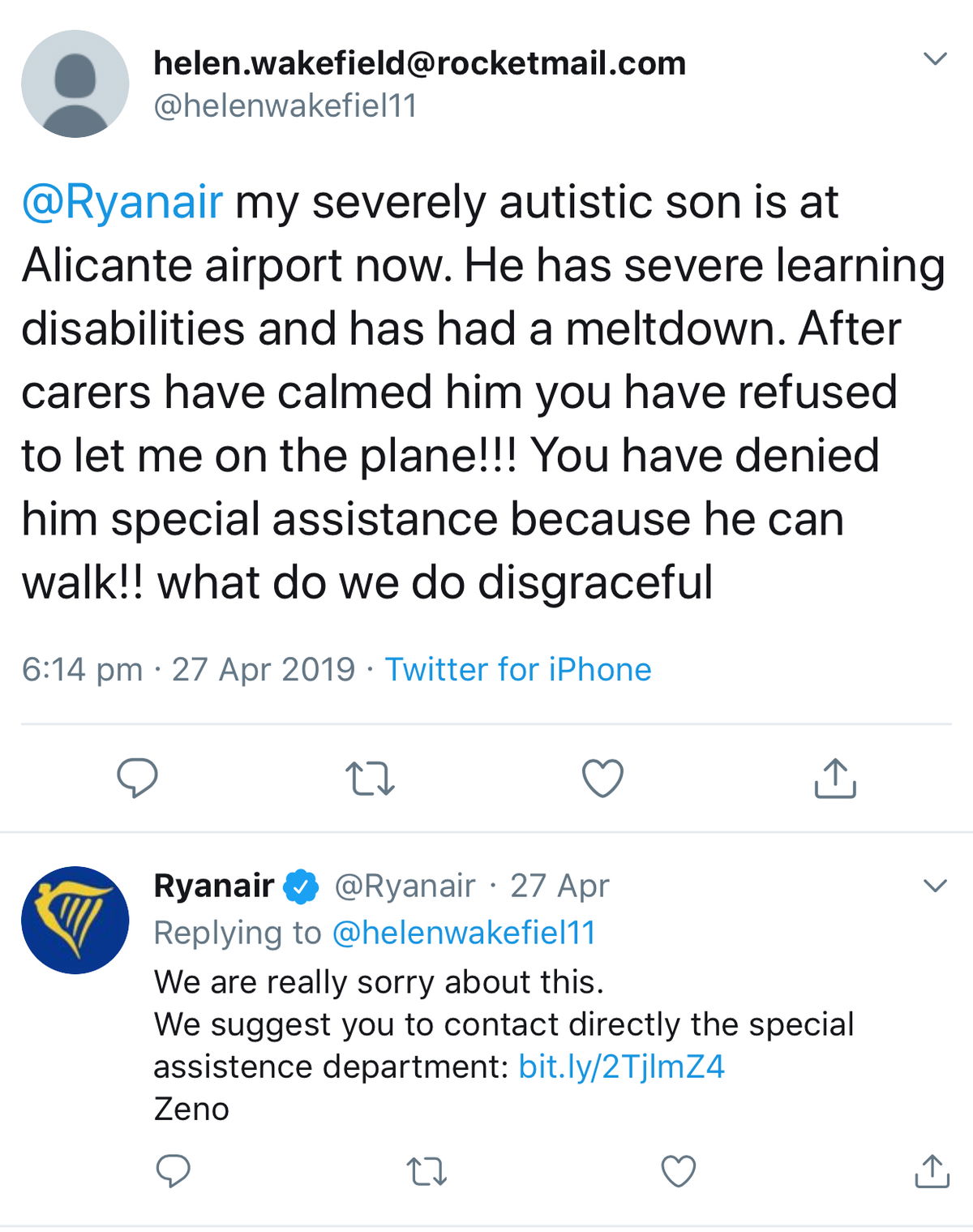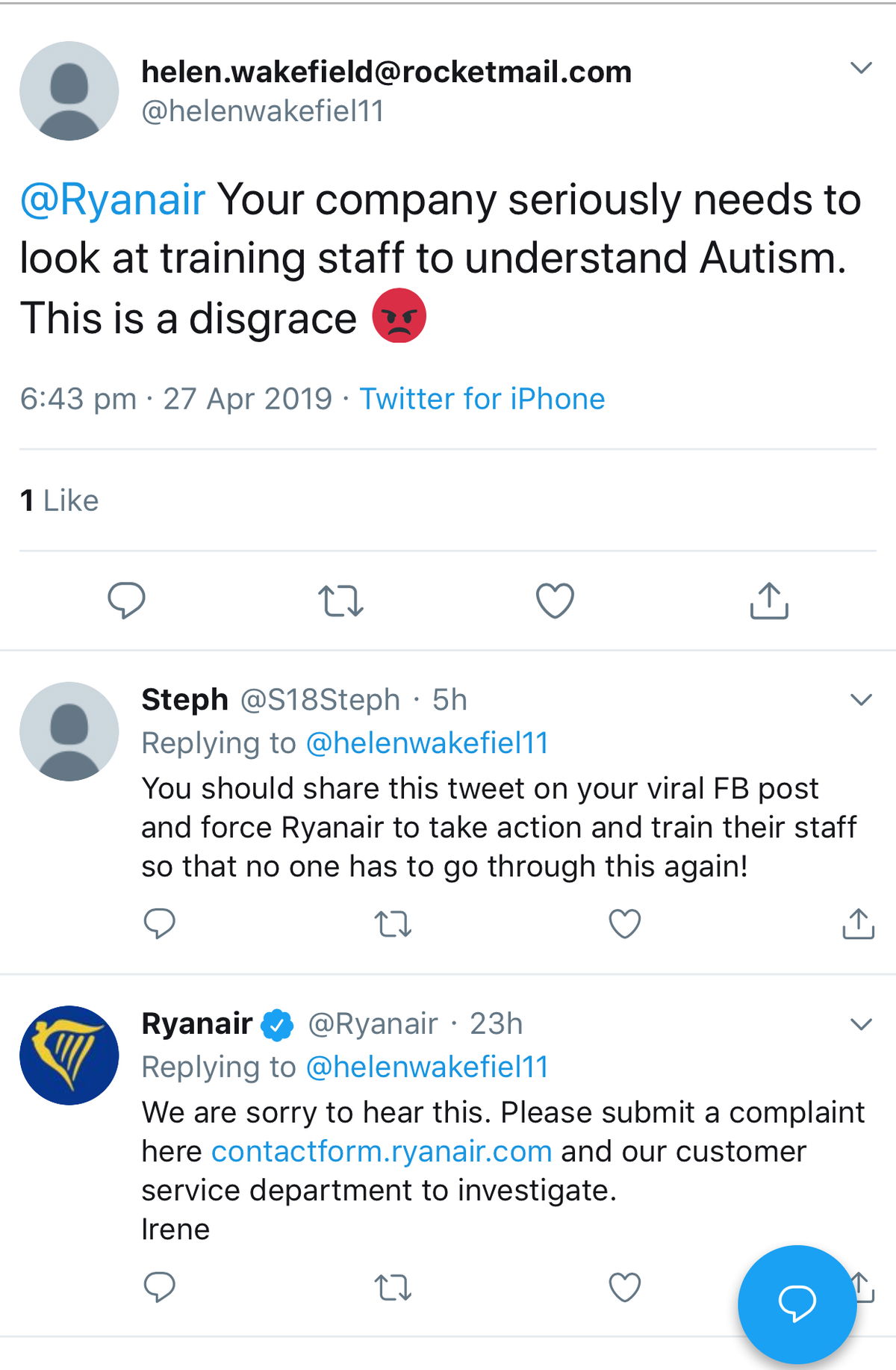 @Ryanair my severely autistic son is at Alicante airport now. He has severe learning disabilities and has had a meltdown. After carers have calmed him you have refused to let me on the plane!!! You have denied him special assistance because he can walk!! what do we do disgraceful

— [email protected] (@helenwakefiel11) April 27, 2019
@Ryanair Are you going to help my disabied son! how can you deny him special assistance all disabilities arent visible? This situation has been caused because you wanted to charge him to take his doll on board!!!

— [email protected] (@helenwakefiel11) April 27, 2019
@Ryanair Your company seriously needs to look at training staff to understand Autism. This is a disgrace 😡

— [email protected] (@helenwakefiel11) April 27, 2019