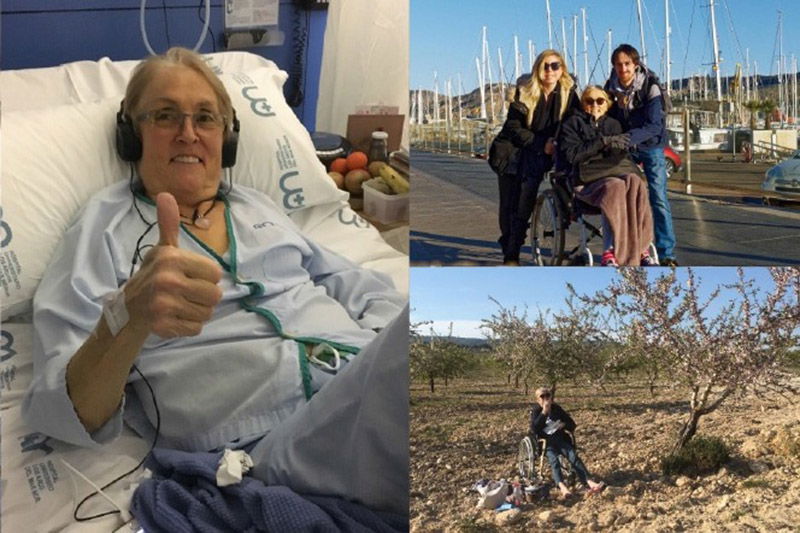 JANE HIBBURD Senorio de Roda in the Murcia region lives with stage-four pancreatic cancer and is praying for a medical miracle.
When she was diagnosed, something inside of her and daughter Lucy moved them to find an alternative solution and not give up.
Lucy rushed her mum to the hospital in December, suspecting gallbladder problems. Unfortunately, information was hard to get. Most of it was lost in translation and Jane, 71, was turning yellow and losing weight fast.
After weeks of countless tests and scans, doctors diagnosed her with stage-four pancreatic cancer on January 4, one day before her daughter's birthday. It had already metastasised to her lungs, liver and bones.
Pancreatic cancer is extremely aggressive and almost incurable because it is usually detected in advanced stages. Without the possibility of surgery of chemotherapy, Jane was sent home to "live out her final days" of one to three months.
Jane recently bought her dream retirement home in Spain, and Lucy gave up work and became her mum's 24/7 carer, a task she feels "totally unequipped for."
Lucy is a firm believer in the healing power of holistic medicine. She discovered a doctor in Germany who flies in for Jane's recommended treatment. With it, her jaundice disappeared, she started eating well, and is walking.
Lucy also believes in the power of the mind, prayer and miracles and has reached out to the local community, who have proved to be amazingly supportive.
An Easter Egg Raffle in a Roda restaurant raised €1,000, allowing for the next phase of treatment, and there is wellness fundraising day on Saturday in Los Narejos.
Donations can be made at: https://www.gofundme.com/praying-for-a-medical-miracle. And for more information on the different raffles and activities visit: https://www.facebook.com/fundraisingforjane.