A HOLIDAYMAKER has expressed his disappointment with travel company TUI's bacon ciabatta ordered on board a flight from Spain's Alicante to the UK.
According to NottinghamshireLive, the man, known as Nile, from Worksop, accused TUI of serving him a bacon sandwich that failed to live up to the images on the brochure.
The man, via his Twitter account @nips118, stated that he had been in Benidorm for the last seven days and wanted "some proper nice food on the plane". He decided to order a ciabatta with bacon and wrote "not the best would you agree".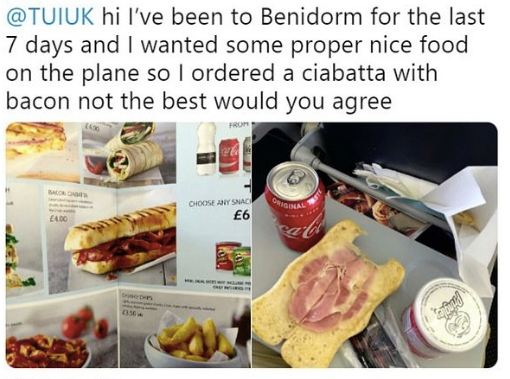 TUI responded online: "Sorry to hear that you've had cause to make a complaint about the meal you purchased on board with us."
TUI invited Nile to contact them by email if he wished to make any further comment.