COMFORT Food
I do enjoy making a meal that is all in one pot and can be prepared ahead and then baked in the oven, ready for our evening meal. Our days are busy here at Olive Tree Farm and when the lads get back from a working day, they need their food and lots of it! Bacon Hotpot has been a favourite for many years, but this week I did it slightly differently and it was gone in a flash with plenty of compliments. If you struggle to find back bacon, try using a couple of pieces of gammon chopped into chunks.
Bacon Hotpot with Leeks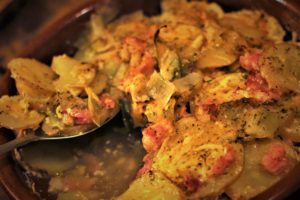 Ingredients
One medium-large leek trimmed, washed and cut into 1.5cm slices
One pack of back bacon or a couple of small gammon slices cut into chunks
2-3 medium potatoes skin on and thinly sliced
150g grated cheese
200ml chicken stock
100ml milk
Dried mixed herbs
50 g butter (unsalted)
Salt and Pepper
2 teaspoons of cornflour
Fresh parsley chopped for decoration (optional)
Method
Fry off your bacon/gammon in a heavy base frying pan, add a little oil or butter if it starts to stick. Strain off the bacon saving any juices when cooked through, set aside and add your butter and all your leeks to the remaining juices. Cook through for a couple of minutes on a medium heat until the white parts start to go translucent. Sprinkle over the cornflour and stir through, cook for a further minute and then set aside.
Grease an oven proof casserole dish/cazuela and begin to layer your ingredients starting with potatoes at the bottom, then bacon, leeks, a handful of cheese, herbs, a little salt and pepper … keep layering and finish with a layer of potatoes, reserving a handful of cheese and a few bacon bits. Add your milk and stock to a jug and pour over the dish. Finally, finish with the last handful of cheese and the reserved bacon bits. Cover with a lid or tin foil and bake at 180 deg C for about 30 – 40 minutes until the potatoes are soft when you prick them with a knife. Remove the lid and put back into the oven for 10 or so minutes to allow the top to brown. I turned the oven up to 200 deg C whilst browning it off. Sprinkle with the chopped parsley and serve whilst still nice and hot.
Serves 4