EURO Weekly News publishers Michel and Steven Euesden were left stunned when staff secretly organised a surprise party to mark their 20th wedding anniversary on Monday.
The big day follows hot on the heels of celebrations to mark 20 fabulous years of producing newspapers serving local communities in southern Spain.
And in honour of the Euesden's incredible achievements as a winning duo at the helm of the EWN Media Group, the head office in Fuengirola was decked out with enormous balloons and a beautiful iced cake had been made, accompanied by food and bubbly.
And staff from EWN's Costa Blanca North and South, Axarquia, Almeria and Mallorca offices sent messages of love and support, as did valued clients.
Presenting Michel and Steven with gifts and a huge bunch of flowers from all of the EWN staff, Operations Director Nicki Burgess, said: "Speaking on behalf of everybody, happy anniversary to you both. We all love you and hope you enjoy your special day.
"Michel and Steven, you are a wonderful and inspirational team, both professionally and in your personal life." Visibly moved, a tearful Michel replied: "Thank you so much to everyone. Steven and I would not have survived 20 years without you all. We do not all simply work together, we are a family."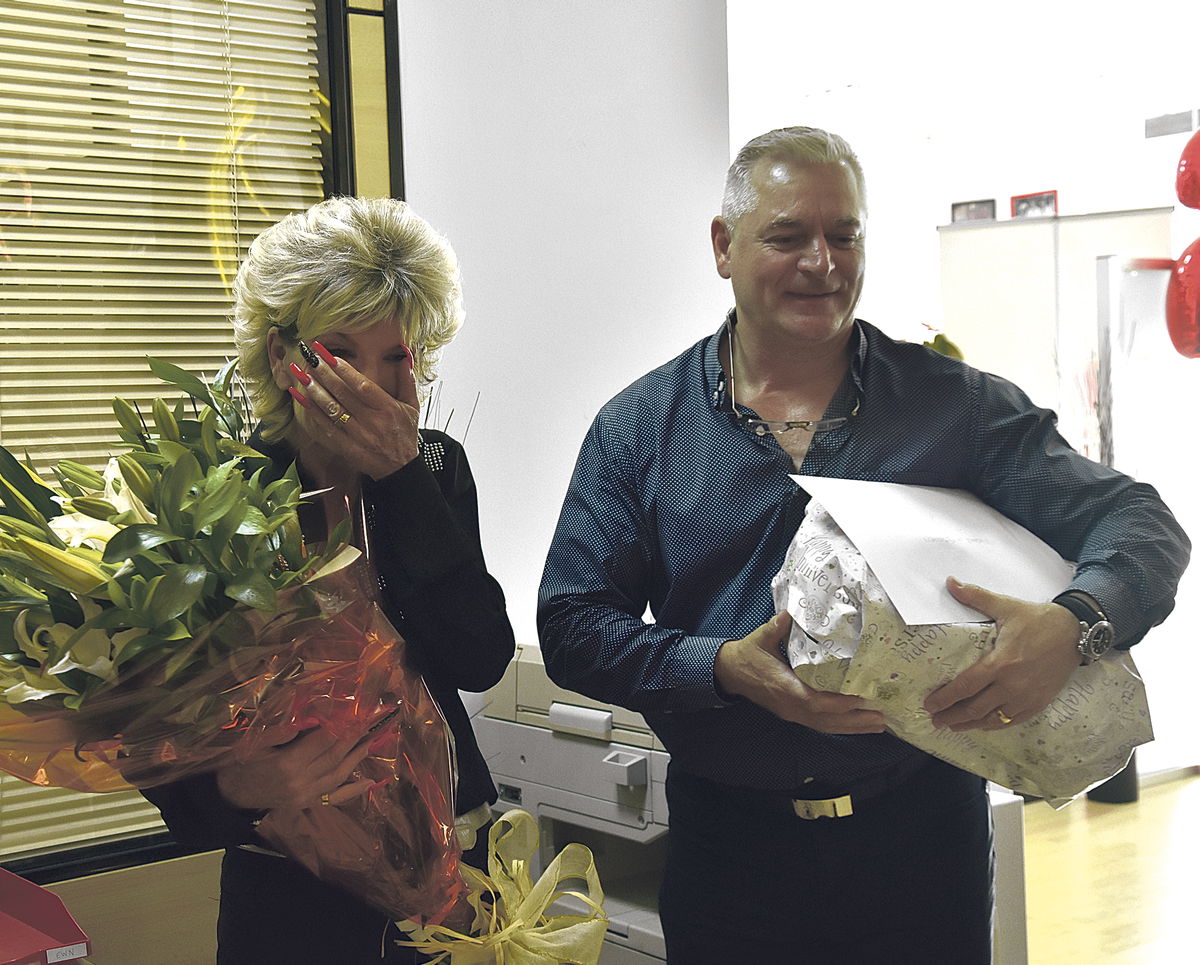 Messages to Michel and Steven:
Huge congrats on your 20th wedding anniversary. Here's to another 20 years of bliss.
Michelle xxxx
To a very special couple who have always been there for me and I wish them a lovely 20th anniversary and long life together.
Shona xx
To Michel and Steven. Twenty years ago you both reached into each other's hearts and placed a string of lights which are still shining with your love, passion and devotion which makes them beat as one. Congratulations on your special day and your shared love which most people cannot dare to wish for. Have a wonderful day together. We will raise a happy glass of sparkly bubbles with much love from the Albir gals.
Sue and Lois xxxx
Congratulations Michel and Steven on your 20th wedding anniversary, here's to many more happy years together in work and play. Love you both.
Tina XXX
It would be hard to find a couple more devoted to each other than Steven and Michel. It shines through that you share a really special kind of love, a love which after 20 years of married life seems to just get deeper and deeper. A love like yours is a rare thing and something to be celebrated. Our heartfelt congratulations to you both.
Cathy & Jackie, Almeria office
Congratulations on your 20th anniversary!! Two caring and dynamic people who will always have a special place in my heart. Here's to the next 20 years together full of love and joy.
Peter xx
Barry Floyd and the Golden Leaves team would like to congratulate and raise a toast to Steven and Michel on their 20th wedding anniversary, we wish them happiness for many years to come. Congratulations to you both on this 20 year milestone.
Dear Michel and Steven, Many Congratulations on 20 years of marriage! Here's to many more and wherever you are make sure you celebrate In Style!
Love and Hugs from Aitch xx