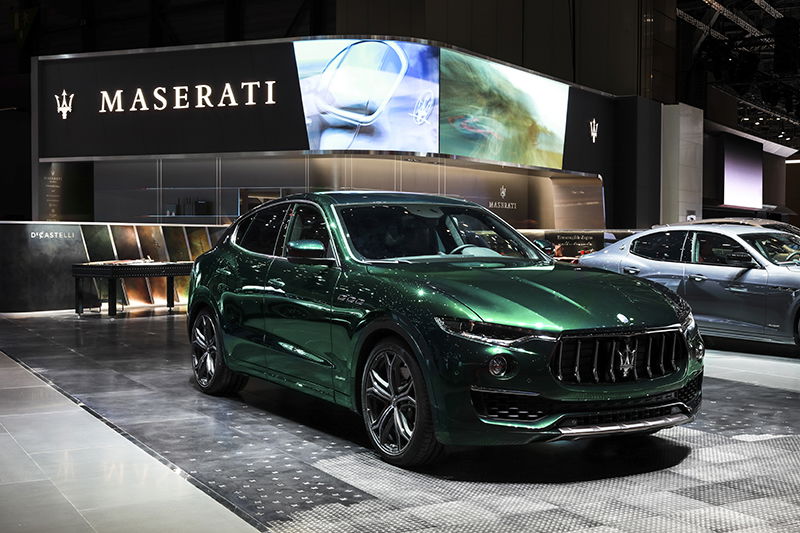 IN the small print during the Geneva Motor Show last month Maserati announced that a characteristically Maserati though new sports car will roll off their production lines in the first half of 2020 in the form of the first of a pre-series production vehicle.
Though first the current production lines will be renewed and upgraded with work beginning in the autumn of this year. Always good to think we have something nice to look forward to.
That is not to suggest that there is not a lot going on right here and right now. Actually Maserati launched a new model this year, an SUV, presenting the Levante Trofeo Launch Edition limited to 100 examples and available not only in the Blu Emozione Matte colour but also in the marques unique paints Giallo Modenese and Rosso Magma. Powered by one of the most powerful petrol engines ever fitted to a Maserati road car. A Twin Turbo V8 assembled by Ferrari Maranello pushing the Levante Trofeo from 0-100 km/h in just 4.1 seconds and to a maximum speed close to 300 km/h. A Maserati is not a headbangers car each car and model line is a work of art appreciated by its owners for style with sophistication, speed with elegance, performance with poise.
Maserati's creative artisanal partnerships include Bulgari. An association that has led to the creation of two exclusive wrist watches, the Octo Maserati GranLusso and the Octo Maserati GranSport, both feature spectacular dials which complications – retrograde minutes and jumping hours – that wittily recall and resemble the rpm counter of the Maserati with the leap of the rev-counter echoing gear changes. Longstanding creative partners of Maserati include Ermenegildo Zegna founded in 1910 and synonymous with fabrics, clothing and accessories and brings them to Maserati to cloth their vehicles. Giorgetti began their cabinet making tradition in 1898, and whose master craftsmen bring 'bespoke Italian' to life. While De Castelli epitomises craft based manufacture in its aesthetic appreciation of metals, with its 'Delabre' artisanal finishes consisting of the manual oxidisation of materials be they steel, copper or brass imbuing them with unique chromatic effects.
As the Geneva Show got underway it became very evident that Personalisation is the drum that the high end manufacturers are beating with increasing vigour and Maserati are clear that they too have a big and loud drum; presenting the Maserati Levante ONE OF ONE. The Maserati Centro Stile worked with Allegra Antinori , Vice President of the wine firm Marchesi Antinori in what was described as a "shared creative process" and not merely a selection of accessories. A process that assisted Allegra Antinori to express herself freely and implemented in a manner more akin to the process one would find in the workshops of traditional craftsmen rather than within a high technology industrial setting.
The Levante ONE OF ONE is intended to be a hard example of Maserati's new customisation process. Externally the car is a distinctive tri-coat green said to be inspired by the shades of the Tuscan hills. The external details, door handles, side air vents and grille inserts, are finished in dark chrome toning with the body colour to give the Maserati 'ONE OF ONE' a unified and sophisticated look. The interior has many unique combinations. A lower dashboard, door panel and central tunnel unit. While the seat colour references the warm hues of the earth of Tuscan vineyards. The unique 'Pieno Fiore' leather was used for the seats coloured with aniline and oils yet no surface finishes though embellished with classical button tuft effects and embroidery. The technique provides exceptional depth of colour and a soothing tactile feel. The central tunnel is in a finish using a material that is new even for Maserati; carbon fibre with copper wire and high gloss finish. The floor mats bring the final and exclusive touch to a tailor made car and are woven of 100 per cent mohair wool. So proving attention has been paid to every last detail.
Nick Horne, London, England