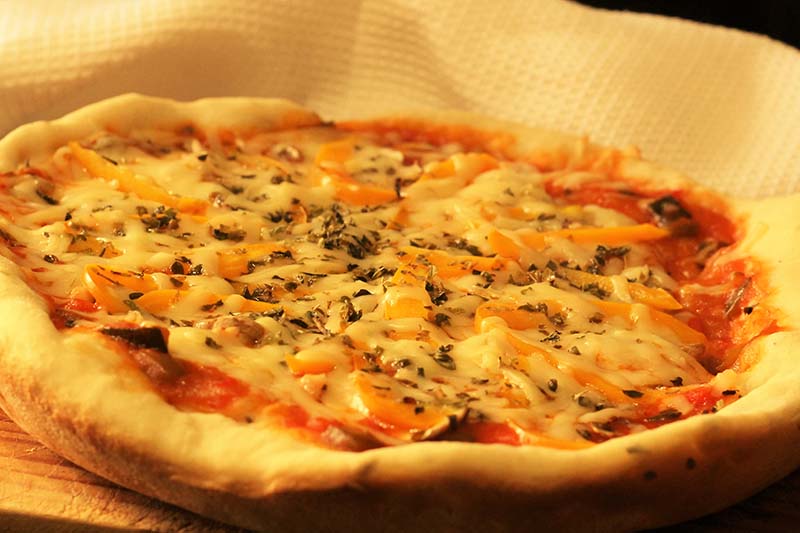 Following a conversation with a friend who is not a keen cook, in fact she doesn't even have an oven, it got me thinking! In the Olive Tree Farm kitchen, I have all the equipment required to enable me to feed the family.
We all enjoy homemade bread and pizza, everything is made from scratch using raw ingredients. So, bearing that I mind, I decided to come up with a couple of things that could be made on the hob, in a pan, which did not resemble a stew or frying and not even much preparation.
My first attempt was soda bread. It worked well. It took less than 5 minutes to put together and 30 minutes to cook. Later in the day, I sprayed it with a little olive oil on both sides popped it back in a hot pan for about 30 seconds each side and it crisped back up perfectly.
Then I decided to try pizza. Again, in a pan, plus a lid. To my surprise it also worked. A homemade pizza in a cheating kind of way. I used leftover cooked chicken, but cooked ham and pineapple, chorizo or just finely sliced veg would also work well. I also used a bought in sauce for the base and ready grated cheese.
Pizza Ingredients
Dough
250g ready-made pizza flour mix
3 teaspoons olive oil
125 ml warm water
½ teaspoon of salt
Sprinkle of Oregano (optional)
Topping
380g box of Fritada (it is tomatoes, onion, courgette and peppers) I used half the box.
A hand full of pre-cooked chicken sliced in to chunks
2 mushrooms thinly sliced
A quarter of yellow pepper very finely sliced
Mozzarella cheese (I used ¾ of a 150g bag of ready grated Mozzarella – I should have used it all!)
A sprinkle of Oregano
Method
For the dough … Add all the dough ingredients to a bowl and mix through until it comes together, just use your fingers. Knead for about 3 or 4 minutes and set aside.
Spray a thick bottomed frying pan with olive oil, on both the base and around the inside edges. Roll out your dough to just bigger than the size of the bottom of your pan, and place in the base of the pan. Now using your fingers and knuckles press the dough so it comes up the sides by a couple of centimetres.
Spoon in the Fritada sauce and spread it out, add your chicken, peppers and mushrooms evenly over the sauce and finally sprinkle over your cheese and oregano. Turn the hob on full for about 2 minutes, then turn down to medium/low. Cover with a lid and leave for 8 minutes. If the dough isn't quite cooked around the edges after 8 mins, put the lid back on and give it another 2 or 3 minutes on low.
Tips – If you do not have a rolling pin, use an empty glass beer or wine bottle. If you are going to make the dough ahead, put it in a plastic bag sprayed with a little olive oil to stop it sticking to the bag, and keep it in the fridge until you are ready.