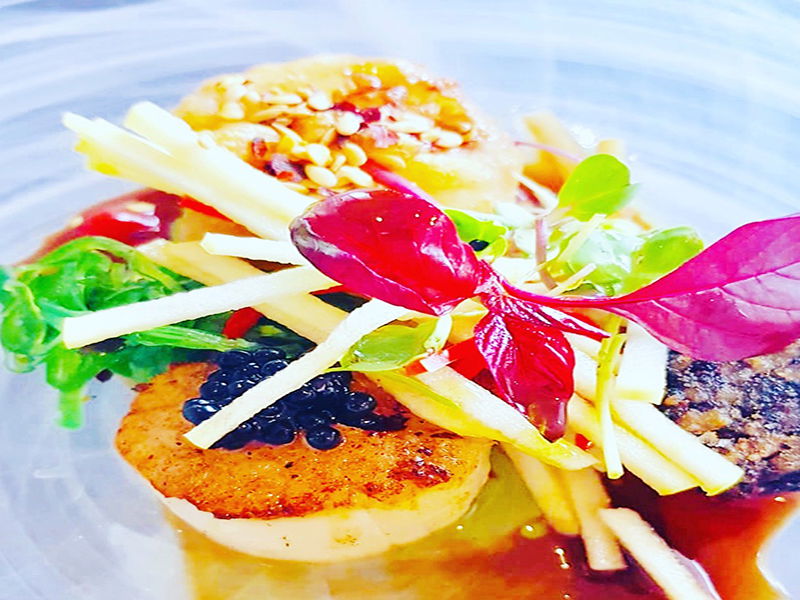 This week Celebrity Chef from Ready Steady Cook &Fellow Master Chef Steven Saunders, proprietor of The Little Geranium in La Cala cooks a fusion dish of Scallops from Galicia with a Japanese twist.
WHEN I was training as a chef I thought it crucial to learn and understand the foods from the East like Thai food, Japanese, Chinese and Indian.
I spent some time in Bangkok and some time in Tokyo. Learning from accomplished oriental chefs for me was like sponging up their knowledge and enthusiasm for food. In Japan the training is very precise and the presentation very neat,very sophisticated, complex and linear.
In Thailand it's more simple and more relaxed and it's all about the flavours. They would add carved vegetables to dishes but didn't really know how to present the food itself.
I remember one chef told me fusion is confusion and with that in mind I was always nervous of mixing the two cultures, until more recently when I realised that they marry so well together if you know how to execute them both correctly!
So for my new menu at The Geranium which starts in February I have created a mix of tempura scallop with a more Spanish styled scallop with caviar and an interesting salad of crisp apple spiced up with a Japanese dressing.
What that does is tick all the boxes as far as flavours and textures are concerned and that is what I believe food is all about.
For example a dish of griddled scallops is delicious but all soft. Add some crispy bacon or crispy black pudding and you change the whole dynamic of the dish through the textures. Now add some crisp apple to the dish and you've just added another dimension of clean fresh crisp flavours – and so it goes on until you have something amazing.
Confucius he say…."Choose a job you love, and you will never have to work a day in your life."
That is very true which I why I choose to cook. When I was young I would stay in at the weekends and help my mother make the bread or bake the desserts. There was and is something peaceful and satisfying about cooking with beautiful ingredients. If you love good food and cooking at home then take some time to read this recipe and have a go at it this weekend. The presentation is simple but effective and the flavours are amazing. It's a starter on my menu but you could double the portion for a main dish or if you're not a fan of scallops or can't get them, you could replace it with large prawns but it won't be as nice!
Ingredients serves 4
8 large juicy fresh scallops (if you can't get them fresh you will be able to get frozen)
1 black pudding
2 large green apples
1 small punnet of wakame seaweed (available from the sushi counters)
1 small punnet of microcresses (optional)
1 small jar of Avruga caviar
1 tablespoon of sesame seeds
1 teaspoon of chinese 4 spice (or Japanese 7 spice)
Maldon salt
White fresh ground pepper
A little flour for the fritter and scallops
Light olive oil
Method
First make the black pudding fritter by removing the thin skin from the pudding and in a mixing bowl break down the pudding with your fingers then add the Chinese spices and season. Mix well and mould into little barrel shape fritters, toss in flour and deep fry at approx.190c or until crisp. Reserve until required.
Cut the apples through the skin but away from the core in thin slices then cut them in julienne style. Keeping them in cold water with lemon juice will prevent them going brown.
Pan fry four of the scallops in a very hot pan with a little oil but do not move them until they have a nice golden coating. Flash sear the other side so that they are not overcooked. Rest on tissue paper.
Toss the other 4 scallops in a little flour and dip into the tempura batter and crispy fry at 190c for about 1 minute. Remove season with sesame seeds and a little salt and rest on tissue.
For sukiyaki sauce  
100ml of sake (rice wine)
100ml of good natural soy sauce
50ml of mirin
1 tablespoon of honey (or brown sugar)
1 teaspoon of sesame oil
1 teaspoon of dried chilli flakes (optional)
Juice of half a lime
Bring the first four sauce ingredients to the boil in a small saucepan and then reduce the heat and simmer until syrupy. Finally add the sesame oil, chilli flakes and lime juice. Taste
Ingredients for tempura
200g of good quality Japanese tempura flour (from most good supermarkets)
200ml of iced cold sparkling water
A pinch of Maldon salt
A few cubes of ice
A table spoon of olive oil
Make the Tempura batter
Add the ice cold sparkling water to the flour and stir in (do not whisk) so that the batter is lumpy. Add some ice cubes and season and then a little olive oil and stir in.
Important: Lumps in the flour are good.  Do not mix it too much as you will get a lot of gluten which makes it heavy and creates an un-crispy tempura batter.
Construct dish
Put one of each scallop on a plate and add a small spoon of seaweed to one side. Top the scallops with the apple julienne and some microcresses. Add some caviar to the non fried scallop. Place the black pudding fritter on the opposite side to the wakame. Drizzle with the sukiyaki and serve.
Note: I add a touch of either lemon butter sauce or truffle cream to the plain scallop, this isn't necessary but it adds more flavours!
You can email Steven any queries or questions on
Steven Saunders FMCGB
The Little Geranium
La Cala De Mijas
(Behind the Town Hall in central La Cala)
For bookings and Information visit ….www.thelittlegeranium.com