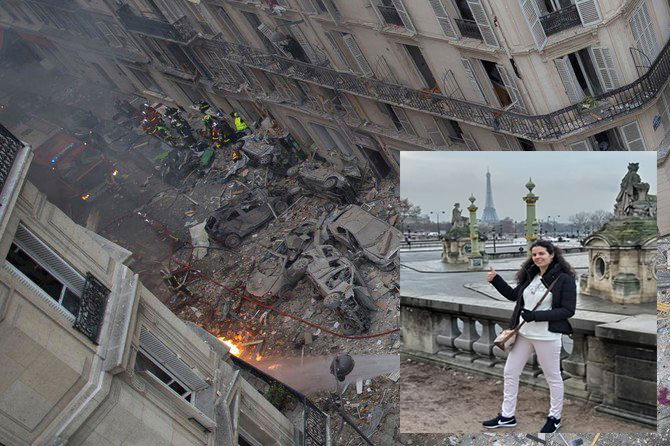 LAURA SANZ NOMBELA from Toledo was one of four people who died during a suspected gas explosion in central Paris.
The 38-year-old mother of three had been swept off by her husband for a romantic weekend and after their first night in the French capital she was getting dressed in front of the window.
"The curtains were drawn," her father said afterwards.  "She was putting on her jersey when the explosion happened in the Hubert bakery in front of the hotel."
The blast tore away the window frame and hit Laura's head while her husband, Luis Miguel, who was not yet up, was slammed against the bed.
Seeing his badly injured wife he went to the window and called for help but when this did not arrive, carried Laura downstairs.
"Everybody was filming with their mobiles and nobody stopped to help until a fireman took her from Luis Miguel," her father lamented.
Laura's rescuer carried out CPR until an ambulance arrived to take her to the University Hospital of Paris where she died some hours later.
Jose Luis has made up his mind not to leave Paris without his daughter's body, he declared to the Spanish media.
At first he was told that repatriation would take at least 10 days although the Spanish consulate has pledged to speed up the formalities as much as possible.
"My son-in-law if physically unharmed, but psychologically…" Jose Luis's voice tailed off.
"They met when Laura was 16 and had been together ever since.  Until now."
NEW: Video shows the moments after this morning's gas explosion at a bakery in Paris, killing 3 people and injuring 46 pic.twitter.com/TyfKqFDLDv

— چهار فصل (@FourCzen) January 13, 2019