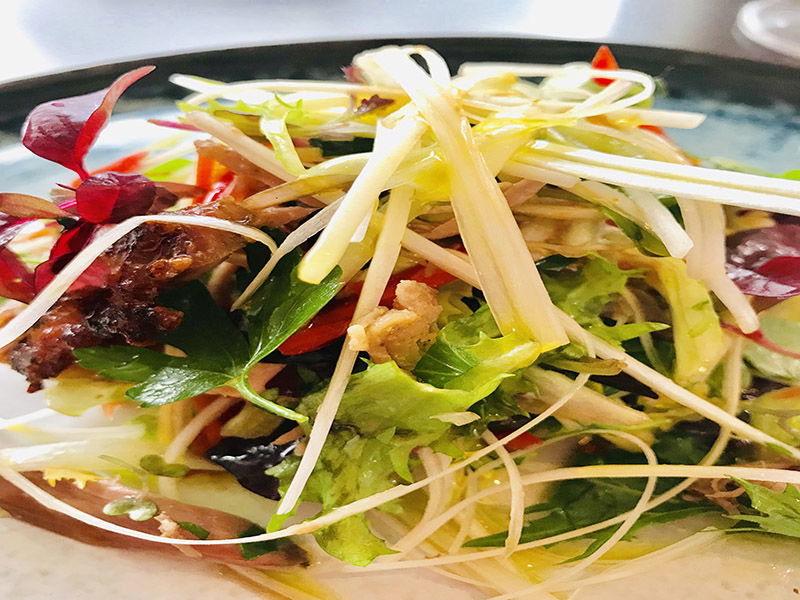 This week Celebrity Chef from Ready Steady Cook &Fellow Master Chef Steven Saunders, proprietor of The Little Geranium in La Cala shares some New Year diet tips for a lighter and alternative way of eating after Christmas!
A Beginners guide to a low carb Keto Diet
I've been writing for newspapers and magazines since I was about 26. I have written for all the catering journals and magazines like OK, Hello and now Euro Weekly News (by far the best one!) Almost every New Year I write about being healthy because, lets face it, we wake up on New Year's Day feeling dreadful and realising that we have eaten and drank enough to last the whole year!
We want and need to make some changes to our diet, eat less junkfood, smoke less, drink less and then by March we will have forgotten about it all! But you can and should be able to sustain it as long as you don't feel the cravings. Out of all the diets and fads (and I've tried them all!) the best one by far is the Keto diet.  The name "keto" in a ketogenic diet comes from the fact that it allows the body to produce small fuel molecules called "ketones".This is an alternative fuel source for the body, used when blood sugar (glucose) is in short supply. The liver produces ketones from fat. These ketones then serve as a fuel source throughout the body and Ketones are produced if you eat very few carbs and moderate amounts of protein (excess protein can also be converted to blood sugar).
It's a diet that is safe for everyone unless you are taking medication for diabetes, high blood pressure or you are breast feeding. (Consult your doctor first if that is the case.
On a ketogenic diet, your entire body switches its fuel supply to run mostly on fat, burning fat 24-7. When insulin levels become very low, fat burning can increase dramatically. This is great if you're trying to lose weight, but there are also other benefits, such as less hunger and a steady supply of energy. I have really found this diet to be the best ever! For more information on this fantastic safe and logical diet go to www.dietdoctor.com/low-carb/keto
So what can I eat on this diet?
Lots of fish and seafood
Cheese
Eggs
Natural fat like olive oil, butter, coconut oil, avocado oil
Meat
Vegetables that grow above the ground especially leafy green vegetables
Berries like strawberries, blackcurrants, blueberries
Tea, coffee with no sugar, water, wine in moderation, some diet drinks
What shall I avoid?
Bread unless made with almond flour
Potatoes
Pasta
Sweet candy
Chocolate bars
Rice and grains
Most fruits other than some berries
Fizzy drinks and beer
Condiments like ketchup, brown sauce
Energy drinks, smoothies, orange juice
Some of these changes may take getting used to but they are not dramatic and I find that I can switch over pretty easily. Personally I drink wine and diet coke and sparkling water and I have taught myself to ignore the more carby foods but that doesn't meant that from time to time you can't eat the odd carb. So on a Sunday when the restaurant is closed I usually cook a roast meal with roasted potatoes and some of the more carby root veggies. To be honest I don't miss them much and I don't feel 'wow thank god for potatoes'. On the contrary, and so if it works for me it should work for you too!
At The little Geranium we are just about to introduce a healthy menu section, it will be based around the Keto diet plan. If you need help or advice feel free to pop in and see me!
Here are some foodswaps to kick off the Keto plan gently:
Swap milk chocolate for dark chocolate ideally sugar free(a minimum 80% cocoa solids.)
Swap fruit yoghurts for natural Greek yoghurt and add fresh raspberries
Swap cheese and biscuits for cheese with an apple or with olives or celery
Swap crisps and sugary nuts for whole brazil nutsor macadamia nuts
Swap white rice and all grains for cauliflower rice
Swap potatoes for cauliflower hash browns or cheesy cauliflower
Swap below the ground root veg for above the ground green leafy vegetables
Swap sweets and cakes for some fresh raspberries or blackberries
Swap bread for bread made with only almond flour
Swap flour totally for Almond flour that way you can still eat Pizza etc!
Make your own Almond Flour
Simply buy peeled whole almonds (or peel them yourself by blanching them in boiling water and removing the skins). Blend in a food processor until fine and pass through a sieve. You can add yeast but don't add sugar!
Healthy Crispy Carb Free Duck Salad (Serves  4)
Salad Ingredients
1 whole duck roasted until cooked and crisp
1 red and 1 green fresh chilli in julienne without seeds
4 tablespoons julienne of radish
2 tablespoons julienne of fresh root ginger
Various salad leaves
4 tablespoons julienne of spring onion
1 bunch of fresh coriander
Salad dressing
50 ml of extra virgin olive oil
2 cloves garlic mashed
2 tablespoons of light natural soy sauce
Juice of 1 lime
Juice of 1 orange
A little olive oil
1 green chilli chopped finely with no seeds
1 teaspoon of sesame oil
Method
This very simple duck salad is deliciously healthy and leaves you feeling more than satisfied without having to have the sugary or deep fried alternative!
Firstly take your freshly roasted duck and break it into small pieces using your hands. If it's not crispy enough put in back in a hot oven (200c) in pieces to crisp it more. Simply make the dressing by mixing all the ingredients together, taste and season with a little Maldon salt.
Mix the roasted duck together with even proportions of the salad ingredients and with your hands portion it into four bowls. Pour over the salad dressing and serve immediately. Eat with chopsticks and have a glass of dry white wine with it. Your first carb free meal isn't that bad is it?!
You can email Steven any queries or questions this Christmas on steven@thelittlegeranium.com
Steven Saunders FMCGB
The Little Geranium
La Cala De Mijas
(Behind the Town Hall in central La Cala)
For bookings and Information visit ….www.thelittlegeranium.com