On the morning of December 24, chefs from El Corte Inglés will cook for 109 families at risk of social exclusion through the NGO "Alimentos Solidarios".
Torrevieja, December 21, 2018. The Hospital Quirónsalud Torrevieja has organized the solidarity action "Christmas Eve for all, no family without Christmas" in collaboration with El Corte Ingles, the Association of Realtors of the Vega Baja (ASIVEGA) and the Diario Información.
This event will take place at the headquarters of the NGO Alimentos Solidarios of Torrevieja on the morning of December 24 from 12:00 to 14:00 pm, and has consisted of the preparation, by chefs of El Corte Ingles, and cast from the Christmas Eve dinner to 109 families without resources.
In addition to the distribution of menus, the Hospital Quirónsalud Torrevieja has distributed to the children the Christmas toys and sweets that were deposited in the hospital during the solidarity campaign of Christmas 2018 that took place from December 3 to 12, and that culminated with the performance of the British ICA Choir.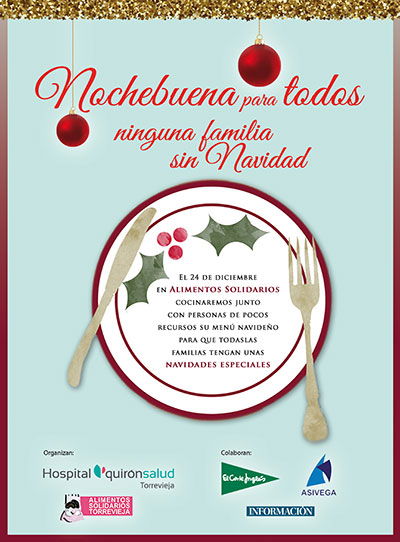 The action has been framed in the solidary commitment of the Hospital Quirónsalud Torrevieja with the objective that all the families of the region of the Vega Baja have a special Christmas.
MEDIA CALL
Date and time: December 24 at 12:00 pm
Place: Alimentos Solidarios Headquarters Calle San Pascual (Esq. Apolo), Torrevieja
About Quirónsalud
Quirónsalud is the most important hospital group in Spain and the third in Europe. It is present in 13 autonomous communities, has the most advanced technology and offers more than 6,500 beds in more than 100 centers, such as the Jiménez Díaz Foundation, Madrid Quirónsalud University Hospital, Dexeus University Hospital, Ruber, Teknon Medical Center, Hospital La Luz, Polyclinic of Guipúzcoa, etc., as well as a large team of highly specialised professionals of international prestige.
We work in the promotion of teaching (seven of our hospitals are university) and medical-scientific research (we have the Health Research Institute of the FJD, the only private research center accredited by the Secretary of State for Research, Development and Innovation).
Likewise, its healthcare service is organised in transversal units and networks that allow optimizing the experience accumulated in the different centers and the clinical translation of our research.
Currently, Quirónsalud is developing numerous research projects throughout Spain and many of its centers perform a leading role in this field, being pioneers in different specialties such as cardiology, endocrinology, gynecology, neurology, oncology and sports medicine, among others.