FLIGHT NETWORK has compiled a list of the world's best beaches as voted for by 1000 of the travel industry's top Travel Professionals.
This Europe's Top 50 Beaches list contains eight incredible Spanish 'playas'.
Find out which beaches made their list below and a description kindly provided by Flight Network for Euro Weekly News.
Platja de Formentor, Mallorca
Platja de Formentor is a long, skinny, white-sand beach located on the island of Mallorca, Spain. The beach stretches almost 1-kilometre in length and is set in a wild landscape of dense pine forests and mountain peaks. The crystal-clear water allows for excellent swimming, which often means that in the summer, you'll be joined by many other beach-loving travelers. Keep in mind that Platja de Formentor is developed and divided into three sections with different prices for comfortable lounge chairs and umbrellas.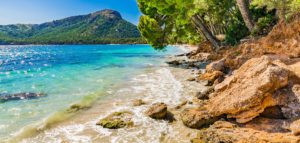 Papagayo, Canary Islands
Papagayo sits in a small cove in the south of Lanzarote and is characterised by its dusty white sand. The walk to the beach can be challenging, but the reward is crystal clear, emerald green water that can be as still as a swimming pool, allowing for excellent swimming and snorkeling for kids and adults alike. Despite the secluded location, there is a small beach bar on the hillside selling ice cold drinks to enjoy while soaking in the beauty. Visit in the late afternoon to stay and catch one of the world-famous sunsets.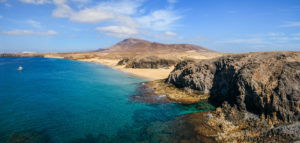 Playa de las Catedrales, Galicia
Located along Spain's Galician coast, Playa de las Catedrales features a series of geological rock formations that constantly reminds visitors of Mother Nature's talents. The extraordinary towering rocks resemble the arches found in Gothic cathedrals and can truly be admired when the ocean recedes and creates a walkway in the sandy patches below. Gaze up at the these 90-foot-tall wonders, and you will understand why the beach is referred to as, "the beach of the holy waters." It's truly a magical place that needs to be seen to be believed.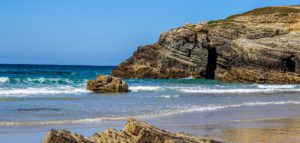 Aguas Blancas, Ibiza
Aguas Blancas is a strikingly beautiful stretch of dark-coloured sand surrounded by characteristic rocky cliffs. It's one of those picture-perfect beaches even the most intrepid travellers might only discover once or twice per lifetime. Unspoiled and perfect for swimming, this turquoise water will lure you in as soon as you see it, and the nearby rocks and caves are great for those wanting to explore. And if you're feeling a little more adventurous, you may want to jump into the sparkling water from the giant rock at the end of the beach.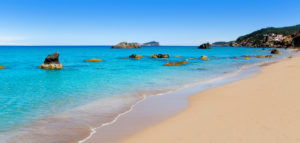 Playa del Charco de los Clicos, Canary Islands
Charco de los Clicos, also known as the Green Lagoon, lies inside an extinct volcano submerged into the Atlantic Ocean. The green colour of the lagoon is created by algae at the bottom of the seabed, which provide a stunning contrast to the blue sky and dark sand on the beach. Sunset is the perfect time to visit Charco de los Clicos, as you'll have an opportunity to watch the colours slowly and artistically change when the sun sets on this one-of-a-kind landscape.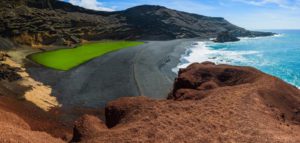 Playa de Rodas, Galicia
Playa de Rodas is a strip of white, silky soft sand and turquoise water backed by fine sand dunes and pine trees. Seasoned travellers have called this one of the most beautiful beaches in the world and one of Spain's best kept secrets. However, the secret might be out as more visitors now make their way here to sunbathe or walk the small trails along the beach in the unspoiled surrounding nature. Despite sharing the beach with other beach-loving travellers, you won't regret visiting one of Spain's favourite pieces of paradise.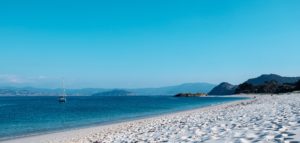 Cala de Ambolo, Javea
Snorkel, rock jump, or simply gaze at the pristine green waters of Cala de Ambolo. The trek down to the beach, and back up at the end of the day, can be demanding, but that's also what deters the crowds from this postcard-worthy setting. The water is clear, and the surroundings cliffs and rock outcroppings are enough to occupy hours of gazing out to sea. Keep in mind that Cala de Ambolo is considered a nude beach, so fellow sunbathers (if there are any) may not be clothed.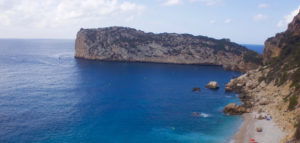 Güi güi, Canary Islands
Once home to a permanent hippie colony, Gui Gui Beach has long been a legendary stretch of sand in Gran Canary. But despite its well-known status, visit on any day, and there's a good chance you won't see another person. Beachgoers must conquer a 5-kilometre trek to reach the sand, and the upward hike on the way home is a bit more demanding. However, that's what keeps the crowds down, so you can enjoy the sand, calm sea, and towering cliffs to yourself on many days. Visit for the iconic sunsets, and be aware that this is considered a nudist beach.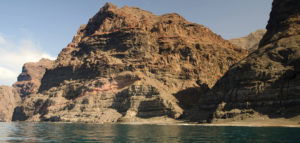 For the full list of Top 50 beaches follow this link.