A BABY donkey that was found dumped in a plastic bag in Spain has died despite the valiant efforts of volunteers who did everything they could to save him.
The sad news was broken by the Easy Horse Care Rescue Centre near the little town of Rojales in the province of Alicante, on Spain's Costa Blanca.
They told how the little donkey was originally found by a man walking his dog in Las Herredades "dumped in the countryside in a plastic bag, like a piece of rubbish."
He was rushed to the Hospital Veterinario San Vicente – CPVR – in a critical state, unable to stand on his legs.
The poor little animal was suffering from pneumonia with blood clots into his lungs and put on a drip and on antibiotics.
But the non-profit rescue centre that saves neglected and abused horses, ponies and donkeys broke the sad news: "The baby donkey that was found dumped in a plastic bag couldn't survive.
"The pneumonia was too serious for his little body and he died last night.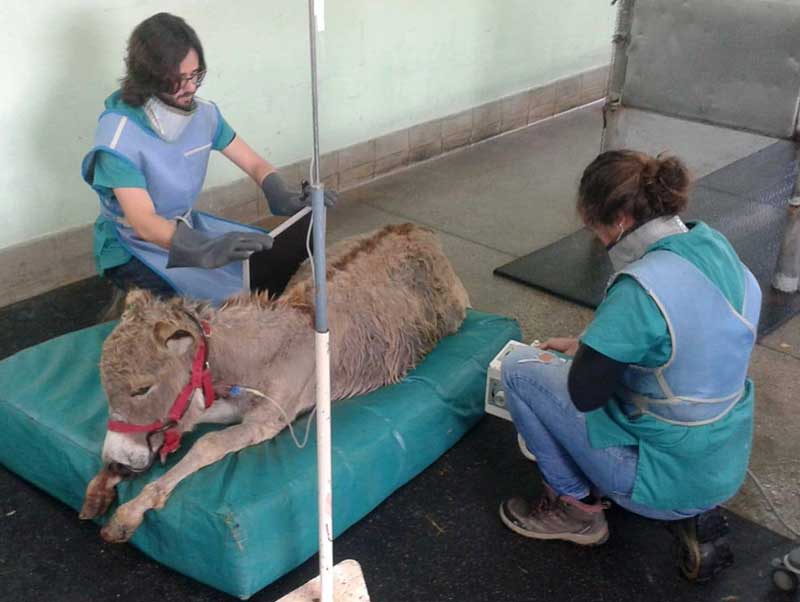 "We are all terribly shaken by this loss and by the horrendous condition he was when found.
The rescue centre added: "Many thanks to Hans who found the poor donkey and called the rescue centre, to the Almoradí police and to all of you for your kind words, support and donations.
"As always, a huge thanks to the marvellous vet team of the Alicante Horse Hospital that's fighting for this little guy's life. We know he's in the best place."
Rescue centre co-founder Sue Weeding, speaking exclusively to the Euro Weekly News said: "This donkey is not a one-off situation.
"Over the years we have been called out to help others that have been dumped because all the abuse and how they have been kept has caused them to become seriously ill and often on the point of death so they move them somewhere and simply dump them.
"This baby donkey obviously became ill and weak with pneumonia due to lack of care if you look at pictures of his face you can see the markings where bail twine has been made as a halter and cut into his face.
"They put him in a bag as he was too weak to walk.
"Then put him in a vehicle and took him to where he was found and hid him down a track out of sight it was only by pure chance that this gentleman was walking his dog down an used track and found him."
Founded in 2008 by Sue and Rod Weeding, the Easy Horse Care non-profit rescue centre saves neglected and abused horses, ponies and donkeys across Spain's Costa Blanca region.
Sue said: "We're British expats who had moved to Spain from England in 2001 to enjoy an easy sunshine-and-relaxation retirement.
"But all that changed in 2008 with Luceiro, a two-year-old stallion we found locked in a filthy and dark stable, his left eye badly injured and rotting, hurling himself repeatedly against the bars of his stall as flies drove him crazy.
"Unable to walk away from such a distressing case of animal cruelty, we brought Luceiro home to our own finca – and unwittingly created a much-needed horse rescue centre.
Sue told the Euro Weekly News: "We now care for more than 123 horses, ponies and donkeys saved from abuse and neglect.
"We believe that when you love an animal, you fight to save it. They may be old crocks and broken down and disabled or whatever, but for the abuse they've suffered and survived, they deserve a second chance.
"We are determined to help push for the better treatment of animals in Spain and constantly lobby authorities to change laws and punish those who abuse animals.
Sue went on: "Our Easy Horse Care Rescue Centre is registered as a charitable foundation in Spain and all donations are tax deductible.
Information about their donation options, including one-off donations and horse sponsorships can be found on the website: www.easyhorsecare.net/donate
Sue added: "We also run a network of charity shops across the Alicante province. Donations of furniture, clothes and bric-a-brac to stock the shops are gratefully welcomed."
"Every single cent donated or spent in our charity shops goes towards the hefty feeding and care costs of all our animals. Thank you for helping us gift these equines a second chance at life."