ONE of the best-known names on the Costa's entertainment scene has launched a public fundraising appeal help a fellow performer get back on his feet in Spain.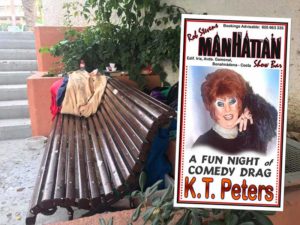 Vocalist and promoter Rob Stevens has launched a €10,000 fundraising campaign for drag legend KT Peters who was a big drag star ten years ago – but has ended up living rough on benches in Benalmadena for the last three years.
Rob, who is well-known for running a string on venues on the Costa del Sol – including the famous Manhattan Showbar in Benalmadena, told the Euro Weekly News how he bumped into KT by accident in the marina recently.
He recalled the chance meeting spurred him into setting up a Go Fund Me page to try and get the rehabilitation help that KT needs.
Rob said: "It's upset me greatly.
"A man that was a star ten years ago has been living rough for three-and-a-half years.
"All I could do is give him some cash and he never asked for a penny. It killed me to walk away."
Rob went on: "The number of acts on this coast that have shared the stage with this guy and the number of venues he's made money for I find it hard to see how this could happen.
"I understand some people have helped him in the past and I understand that drink plays a big part in this.
"But this guy needs support more than money, people to talk and encourage him to get cleaned up and somewhere safe to live.
Rob suggested that if just if just 20 people could put €5 a week into a pot that someone here had control of it would be a start.
"I personally would transfer a contribution every week to help this legend back and to live a little better.
"Sleeping on a bench with out of date yoghurt and packs of cold meat telling me he gets by is no way for anyone to live."
Rob pleaded: "All you who have laughed and shed a tear at some of the shows he's done should all consider helping a little.
"I don't think it's too much to ask."
Cash donations can be made at Capone's in Benalmadena or you can donate online via: www.gofundme.com/rob-stevens-outreach-for-kt-peters
https://www.facebook.com/manofmanyfaces/videos/10218733964486218/
https://www.facebook.com/manofmanyfaces/videos/10218733951805901/